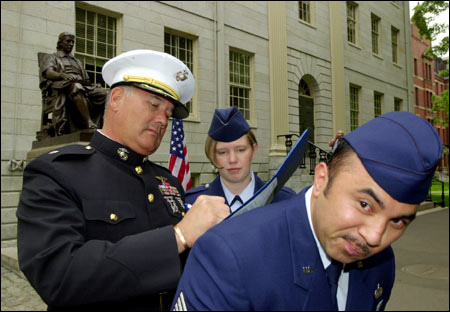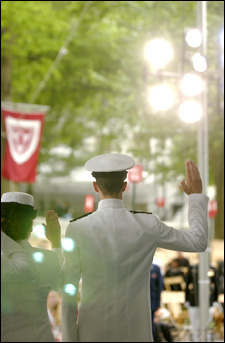 At the ROTC Commissioning Ceremony held Wednesday (June 4) in Tercentenary Theatre, nine Harvard seniors took the oath of office administered by Roger C. Taylor '53, retired Navy officer, currently a writer on nautical subjects.
In his remarks, Taylor told the soon-to-be officers, who "appear to this Ancient Mariner to be so young," that they were people from whom great things were expected. He warned them not to let the advanced technology of modern warfare deceive them into thinking that war is a video game, and urged them to "make yourself part of the conscience of the Army, Navy, or Air Force," and to be prepared to deal with future moral ambiguities.
The commissionees received the insignia of rank from their parents or members of their family, then received their first salute from a designated enlisted person from their branch of the service.
Following an old tradition, the newly created officer then gives the enlisted person a silver dollar, which he or she keeps until such time that the officer is promoted to general or admiral. Should this promotion take place, the holder of the dollar is obligated to seek out the officer and give the coin back.