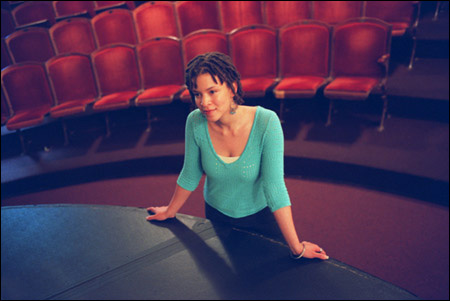 Next fall, while many of her fellow graduates are sending their resumes around to Fortune 500 companies or getting ready to pursue graduate or professional degrees, Shelby Braxton-Brooks '03 will be taking a route that is a little less well-worn and, in some people's estimation, a lot riskier.
Braxton-Brooks' plans include living in New York City and auditioning for roles in theater. Acting, singing, dancing, off-Broadway or on – she's willing to try anything, and as her career at Harvard has shown, she has the talent and the courage to try anything.
"With the performing arts, you never really know the specific path you're going to take. It scares a lot of people, but then being really successful isn't easy in any field. It takes focus, determination, hard work, and creativity. This is something I love doing, and I'm going to do it, with all its ups and downs."
Braxton-Brooks took the off-ramp onto the road less traveled when it came time for her to declare her concentration. Since none of the off-the-rack choices seemed to fit, she put together a special concentration called Performance Studies. It was a choice that seemed to fit her independent, pioneering outlook.
"The special concentration department doesn't hold your hand. They want to make sure that people doing it are OK with being on their own. They want you to be the driving force."
A driving force is what she was, both in her academic work and her extracurriculars. While threading her way through an assortment of courses in literary theory, dance ethnography, music theory, and folklore and mythology, she contributed her talents to a variety of student productions, choreographing dances in "Bacchanal," "Ex-Rated," "Against the Grain," and "Dance Viewpointe," acting in "Kiss of the Spider Woman," and singing with Kuumba. Along the way she managed to snag the Doris Cohen Levi Prize for a student excelling in musical theater, and this year she received the Harvard College Women's Leadership Award.
What does a special concentrator in Performance Studies do for a senior honors thesis? She writes, produces, and directs an original theater piece, of course. In Braxton-Brooks' case, that piece was called "The House that Anseidade Built," which ran for four performances at the Loeb Experimental Theatre.
The piece uses music, dance, and dialogue to explore the anxiety ("anseidade" in Portuguese) resulting from the encounter between natives and tourists in the Brazilian city of Bahia. Braxton-Brooks traveled to Brazil to do research for the piece, studying such Brazilian dance forms as samba and capoeira.
"It's a country that has performance traditions that are not separated from life," she said of the experience. "They're part of the religious ceremonies, the festivals, the social interaction."
Braxton-Brooks cites her parents' unflagging support and the example provided by her artistically inclined extended family as the factors that have guided and motivated her through her college years. But it is her own adventuresome spirit that she relies on as she moves out into the world beyond the classroom and begins knocking on the doors of a professional career.
"I'm really enjoying the fact that I have plenty of options right now. A lot of seniors are feeling the pressure to narrow in. But for most of us, those initial choices are going to change, so why get stressed about having your life planned out? I'd rather take this chance when I'm 22 than wait until I'm 42 and wonder where the last 20 years went."