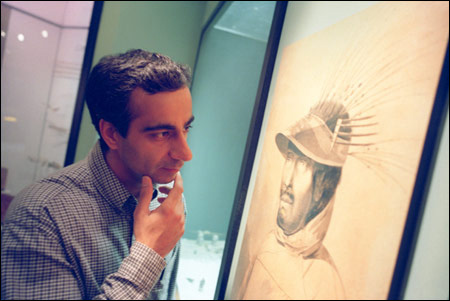 Two Harvard School of Public Health (SPH) students have heeded the call to combat tropical diseases – by heading to the Arctic.
Shiv Grewal and Anna Banerji, both in the master's in international health program, have separately been working with Inuit people in Canada's far northern provinces and share an interest in tropical health.
Both are doctors. Grewal has specialized in family medicine, helping ease the extremely short supply of physicians in a small community on Hudson Bay's northwest coast, called Rankin Inlet.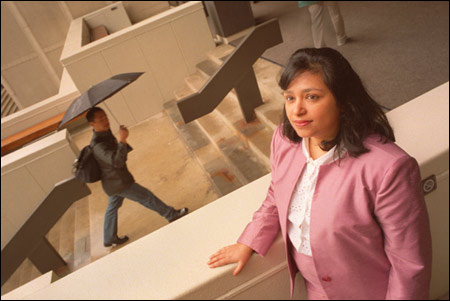 Banerji worked in the regional hospital on Baffin Island, the large island north of Hudson Bay. There, Banerji studied the high prevalence of respiratory illness among Inuit children, publishing several papers about her findings.
Both expressed their interest in fighting tropical and developing-world diseases – which have many parallels with health conditions among the Inuit.
Grewal has worked since 1998 with the University of Manitoba's Northern Medical Unit. Since 2001, he has worked in Rankin Inlet, a community of between 2,000 and 2,500, served by just one or two doctors.
The clinic there is staffed by several nurses and one doctor. The nurses provide primary care while the physician handles tougher cases and emergencies. Physicians are on a rotating schedule, taking turns at the community health center and traveling to seven smaller communities, where doctors visit just once a month.
Grewal said helping people overcome their medical challenges is just one reward in the posting. Another, he said, is the exposure to Inuit culture. People are very open and welcoming, he said. He has observed their traditional hunting practices, gone dog sledding, and has slept in an igloo.
The weather is a challenge, he said, with temperatures chilly even in summer. In the depths of winter, there are just four hours of daylight, but more disorienting, he said, are the long summer days, when it's hard to tell when to sleep and when to stay awake.
Grewal came to Harvard to get more exposure to international health and widen his options for working around the world. Though he's headed back to Rankin Inlet initially and wants to work on circumpolar health issues, Grewal said he's also interested in working on community health issues in Tanzania and is considering volunteering with Doctors Without Borders.
More immediately, he plans to begin a biweekly radio call-in show in Rankin Inlet, as a way of getting more health information out to people.
"With only one physician in town, unless you have an emergency, you have to wait to get your questions answered," Grewal said.
A major health issue identified by both Grewal and Banerji is infant respiratory health, an area Banerji felt compelled to focus on after doing her pediatric residency on Baffin Island in 1996.
"Almost every child I saw had respiratory illness," said Banerji, a tropical disease/infectious disease specialist.
The large numbers of children with the same condition prompted Banerji to systematically review the charts of children admitted to the hospital. She found that one in three children wound up hospitalized for respiratory illness and that 13 percent of those wound up on life support. Further studies found that 484 of 1,000 children under 6 months old were admitted for lower respiratory tract infections, the world's highest rate.
The findings sparked more studies that have consumed a lot of Banerji's time, even while at Harvard. She has continued to visit the area, logging 20 trips since 1996 in all seasons.
The past year at the School of Public Health, she said, has been valuable because it's allowed her to review and consolidate all her work in the north. She said the classes have been valuable because they've been applicable to her work.
"Every class I take, I put in an Arctic perspective," Banerji said. "The background reading has been something I can apply to real life."
In her studies there, Banerji has uncovered several potential links to respiratory disease, including the high rate of smoking during pregnancy and a potential link to a new strain of chlamydia. Other factors that may be at play, Banerji said, include a genetic predisposition to respiratory illness; poor nutrition; a harsh, dry climate; and indoor air pollution resulting from overcrowded homes that are well-insulated against the Arctic cold.
Banerji said her Arctic involvement couldn't have been predicted eight years ago, but said the work draws her on.
"I am a tropical disease/infectious disease specialist and I joke that I took a wrong turn and ended up in the Arctic," Banerji said. "[But] it's basically working with disadvantaged people. It's too important to ignore."