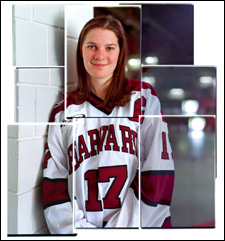 For someone who likes to get things done, often in overtime, senior hockey standout Jennifer Botterill places a surprising amount of stock in the power of persuasion. Yet the explosive Canadian forward – part owner of four Beanpot titles (two of which she won in OT), one national championship (also won in OT), and two Olympic medals – also understands when to pounce on opportunities like few in the game.
Blessed with natural talent (her mother, Doreen, was a speed skater in the '64 and '68 Olympics), Botterill's journey from an outdoor rink in Winnipeg located down the street from her childhood home, to Harvard's Bright Hockey Center, to the gold medal platform of Salt Lake City's 2002 Winter Games, began with a single lunch date and a chance friendship.
Summing up her past four years at Harvard and on the international circuit, Botterill explains: "It's just amazing how things work out. It's funny to look back and think, 'Thank goodness that's how it worked out.'"
At the ripe age of 18, Botterill, who started playing hockey competitively five years earlier, moved from her native Manitoba to Calgary in 1997 to train at the Olympic Oval Female Hockey Program – Canada's training camp for the national team. And though Botterill, a star athlete in soccer, track and field, and hockey at St. John's Ravenscourt High School, was honored and excited to train alongside athletes some 20 years her senior, she remained leery of her odds of actually making the team.
"For me, realistically I was thinking 2002," Botterill said, describing her chances of making the team for the trip to the 1998 Nagano games as "a long shot from the start."
That is, until a friendly – and fateful – lunch date with her father Cal, a renowned sports psychologist and former Canadian National Team member.
"I had lunch with my dad one day and he always believed anything was possible for his kids. He planted this idea in my head: 'Why not 1998?' I started thinking, 'Maybe it is possible.' That lunch with my dad made me focus more on 1998 as opposed to 2002."
As one of 28 athletes training to make the final cut of 20, Botterill found her dad's advice proved both valuable and prophetic.
"Originally I was just thrilled to be part of the 28, but as time went on you begin to believe more and more that it is possible. Botterill's mind-set (and extraordinary speed, no doubt) more than paid off, as the 18-year-old eventually made the team as the squad's youngest member.
"Making the National Team was a total dream, but you have to get to the point where you're like, 'No, I'm here. I belong here,'" Botterill said of her triumph against the odds.
And though Team Canada settled for silver in Japan, the experience fostered more than a few close friendships between Botterill and her fellow trainees. Friendships that proved invaluable in luring Botterill – arguably the best forward in women's college hockey – to Harvard's ice.
"If you look at it, why I ended up deciding to come to Harvard, it's pretty much because of Tammy Shewchuk," Botterill said of her former Harvard teammate and fellow Olympic hopeful (Shewchuk did not make the '98 team). Then a Harvard sophomore at the Calgary camp, Shewchuk '01 – the Crimson's reigning career goal leader with 152 – spoke highly of her experiences as a Harvard student-athlete to a then-uncommitted Botterill.
"I hadn't even considered it," Botterill, who at the time was thinking about attending the University of Calgary, said of Harvard. About Shewchuk and Harvard, Botterill said, "She opened my eyes to it." After getting in touch with Crimson coach Katey Stone and a brief visit to Cambridge, Botterill was sold: "It just sort of felt right."
Her impact on the Crimson was immediately felt, as Botterill helped transform Harvard from a constant contender to a bona fide powerhouse. In her first year, Botterill scored the overtime goal in the American Women's College Hockey Alliance's National Championship against the University of Minnesota. "A thrill," she recalled. This on top of being named the Ivy League Rookie of the Year, First Team All-Eastern Collegiate Athletic Conference (ECAC), All-Ivy League, and All-American. She also led the nation in game-winning goals, with eight.
In her sophomore year, Botterill was named the 2000 ECAC/Franklin Player of the Year, Ivy League Co-Player of the Year, and New England Hockey Writers' Player of the Year. And once again, the psychology major led her team, this time with six game-winning goals, including the overtime goal against Northeastern in the Beanpot Championship.
Pacing the nation her junior year with 78 points (42 goals and 36 assists) in 30 games, Botterill captured the coveted Patty Kazmaier Memorial Award, given annually to the women's best collegiate player. She was also named ECAC and Ivy League Player of the Year for the second straight season. And just for prosperity's sake, Botterill – who has embraced the style of winning games in dramatic fashion – once again netted the game-winner against the Huskies in the title game of the 2001 Beanpot Tournament.
Dominating on the collegiate scale, Botterill took off the 2002 season to return to international play, and another shot at Olympic gold. Together on the ice in Salt Lake City with Shewchuk, who made the 2002 team for her first Olympics, Botterill captured gold with a 3-2 upset of the favored Americans.
Mission accomplished, Botterill returned to Harvard for one final go. In the 2003 campaign, she recorded a point in 80 consecutive games (a collegiate record), as the women's team – whose roster included fellow Olympians Angela Ruggiero '04 and Julie Chu '06 of Team USA – tormented opponents all the way to the national championship. Losing 4-3 in double OT against Minnesota-Duluth in what many regard as one of the greatest collegiate hockey games ever played, Botterill, though obviously disappointed, reflected on the not-quite storybook ending: "We believed until that very last shot that it was going to work out. And that's what sports are about."
Watch for Botterill in the 2006 Olympics in Torino, Italy.