Words and pictures from Harvard's 352nd Commencement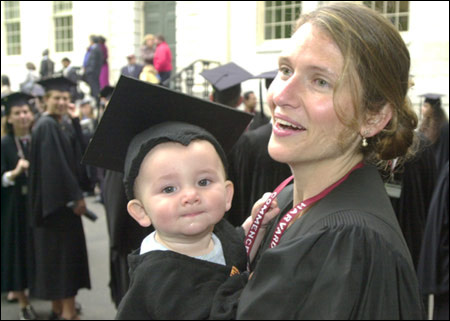 Peacock feathers and blarney
Harvard's Department of Celtic Languages and Literatures granted three degrees this year – two M.A.s and one Ph.D. It was quite an event for this small but distinguished department (the only one in the United States to grant advanced degrees in the subject), and Assistant Professor Barbara Hillers wanted to make sure the achievement of the three students did not go uncelebrated. Standing under the champagne tent at the Graduate School of Arts and Sciences Commencement luncheon, she held in her hand three peacock feathers, which she planned to present to the graduating students the moment they appeared.
Was the awarding of peacock plumes an old Celtic tradition, perhaps?
"Oh, yes," the Irish-born Hillers replied solemnly. "It's at least 5,000 years old."
Department Chair Patrick Ford, standing nearby, guffawed softly, which seemed to induce his colleague to fess up.
"Actually, I bought them from the shop at the Science Museum not five minutes ago. I thought it might be a nice thing to do."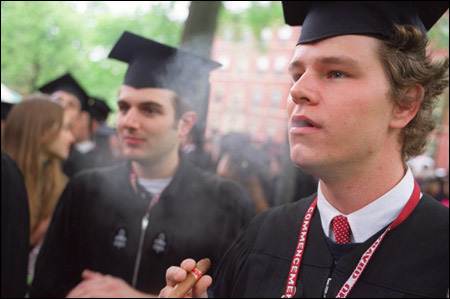 Marathon man
Before updating the Alumni Association on the state of the University in a speech that focused largely on initiatives to enhance undergraduate education, Summers recognized the accomplishments and long service to Harvard of Albert Gordon '23. The lone celebrant of his 80th reunion, Gordon received the M.B.A. in 1925 and the LL.D. in 1977. He was an Overseer, the chair of the Harvard College fund, a president of the Harvard Club of New York City, and, in 1982 at age 80, a first-time marathoner.
"His has been a marathon of support for this University," said Summers.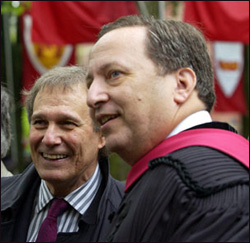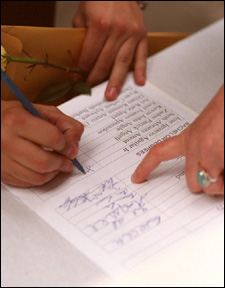 There's no place like the houses
Commencement ceremonies in the houses and at the professional schools, which follow the Morning Exercises with lunch and the actual presentation of diplomas, bring a cozy intimacy to a day filled with pomp and grandeur.
At Winthrop House, as grads mingled and noshed with friends and family, they capped their Harvard educations with the informality of a picnic in the cozy courtyard most of them called home for the past three years. Senior Jordan Webb felt so at home that he padded about the courtyard in a pair of bright yellow slippers shaped like bumblebees.
Not everyone appreciated Webb's relaxed attire, however. "I'm his mother. I keep saying, 'Ditch the slippers,'" said Susan De Saint Phalle.
House Masters Paul Hanson and Cynthia Rosenberger, leaving their post after nine years, were heartfelt in their brief remarks to the students.
"We're graduating with you guys. This has been a wonderful house," said Hanson, the Florence Corliss Lamont Professor of Divinity. "This is, in fact – and we don't say this every year – a very, very special class of seniors."
Not everyone in the Winthrop House ceremony was a senior: At the head of the diploma-receiving line were a handful of advanced-degree candidates who were tutors or affiliates of the house.
Mary Ellen Lennon, a Winthrop tutor for five years, chose to join her house rather than her academic colleagues at the Graduate School of Arts and Sciences to receive her Ph.D. in the history of American civilization.
"It's more homey," she said.
The ceremony was homey for undergraduates, too, most of whose diplomas were dispensed with hugs and kisses from Allston Burr Senior Tutor Courtney Bickel Lamberth.