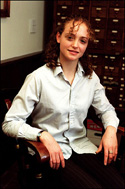 The Committee of the Howard T. Fisher Prize in Geographical Information Science (GIS) has announced this year's prize recipients.
In the graduate category, Michael P. Sweeney and Daniel M. Minkoff of the Graduate School of Design (GSD), for their entry "Territorialization in Romagna."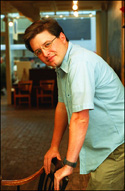 Leah Hutchison, a Massachusetts Institute of Technology (M.I.T.) junior majoring in geosciences (cross-registered at Harvard), for her entry "A GIS Analysis of Desertification in China," and Katherine Ann McEnaney, a Harvard senior studying archaeology, for her submission of a portion of her senior honors thesis titled "Updating the Past: GIS and Cemetery Analysis at Gammai, Sudan."
In the undergraduate category, two prizes were awarded: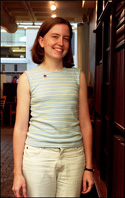 Sweeney and Minkoff will share a cash prize of $2,000, while Hutchison and McEnaney will each receive a $1,000 prize.
Sweeney and Minkoff's study was conducted under the direction of GSD Dean Peter Rowe, in conjunction with Professor Roberto Pasini of the University of Bologna and the Regione Emilia-Romagna (Italy). The judges for the prize called Sweeney and Minkoff's project a "genuine spatial analysis, probably to a greater degree than any other submission," calling the graphical presentation "excellent."
Hutchison's study was performed as a final project in the course GSD 6322. "This paper fills the requirement of being an excellent application of GIS which is adequately/critically described," the judges commented.

McEnaney's senior thesis was supervised by Stephen Phillips Professor of Archaeology and Ethnology C.C. Lamberg-Karlovsky. About McEnaney's project, the judges said: "The report was very well structured … a thorough job in addressing both questions with spatial statistical tools and excellent visualization."
The Fisher Prize for excellence in GIS was established in 1999 by the Harvard University GIS Users Group. It is intended to promote and reward student work – both undergraduate and graduate – in this broad and potentially interdisciplinary area.
The Howard T. Fisher Prize was made possible thanks to a donation from Jack Dangermond, M.L.A. '69.