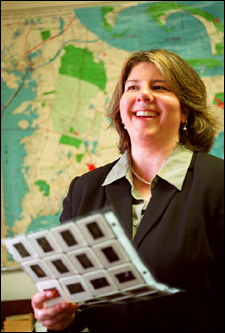 In his novel "Moby Dick," Herman Melville wrote about man's encounter with the destructive forces of nature.
Jayne Iafrate, who earned an M.A. from Harvard Extension School with a thesis on Melville, faced her own White Whale in 1994, and, unlike Melville's hero Captain Ahab, managed to survive.
For her, nature's fury came in the form of the Northridge earthquake, a deadly seismic event, 6.7 on the Richter scale, that struck the Los Angeles area on Jan. 17, causing several dozen deaths and $20 billion in property damage.
At the time, Iafrate was working as news editor for the Los Angeles Times. Normally office-bound, she pitched in as a reporter to bring maximum coverage to this catastrophic event.
"It was an incredible experience," she said. "I learned more about journalism in that brief time than I ever had before. It was my greatest professional experience, but it's hard to reconcile that with the fact that it was something so devastating."
As a member of the team that covered the earthquake and its aftermath, Iafrate shared the 1995 Pulitzer Prize for spot-news reporting.
It was her first Pulitzer, but not the first time she reported on a chaotic and dangerous event in the Los Angeles area. While working on the Long Beach Press Telegram in 1992, she covered the riots that swept parts of the city after the police officers who beat Rodney King were acquitted.
Now living on the East Coast and working at Wheaton College as associate director of communications and as a teacher of journalism, Iafrate admits that she sometimes feels nostalgia for the excitement of covering explosive events.
"There's nothing like being shot at, or having to be escorted home at night by the National Guard. I miss it."
Fortunately, living within commuting distance of Harvard enabled Iafrate to indulge another interest that is a bit less dangerous – literature.
"It has always been a love of mine. If I hadn't gone into journalism, I definitely would have pursued it. Having the opportunity to revisit literature has really been a blessing."
For her master's thesis, Iafrate chose to study the short fiction of Herman Melville, an author she had long admired. Working with Lawrence Buell, the Powell M. Cabot Professor of American Literature, she wrote about the way Melville uses sophisticated strategies like unreliable narrators and shifts in point of view as a way of delivering controversial messages about what he saw as the failings of American democracy.
"Melville was an ardent critic of government hypocrisy. He had problems with slavery, taxation, the division between rich and poor, and the way women were treated. I admire him for the way he was able to deliver messages that were not necessarily welcome in the public sphere at that time."
Iafrate still hasn't decided whether she will go on to earn a Ph.D. in literature, but she has no doubt that the years spent at the Extension School were well worth it.
"Coming to graduate school 20 years after earning a B.A. allowed me to bring a certain amount of personal experience, which I think helped me better understand the literature I was reading. It's been a very personally rewarding experience, one that I think I appreciated more than if I had gone right after college."