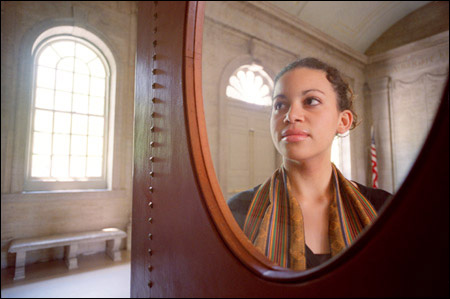 Johanna Paretzky '03 came to Harvard a jock. Her high school days and summer vacations had been filled with soccer, basketball, and karate, and she considered competing at Harvard.
Four years later, Paretzky has emerged a singer. Along the way, Paretzky, who attended a small, predominantly white Jewish high school in Maryland, gained personal and academic insight into her African-American identity.
Paretzky discovered the joy of music – and much more – in The Kuumba Singers, Harvard's choir dedicated to the music of black creativity and spirituality. She calls her three and a half years with Kuumba her "shining experience" at Harvard.
"I found not only my own singing voice but also my ability to lead," she says, adding one more treasure – "and a family with Kuumba."
'Singing music that moves me'
Even before arriving at Harvard, Paretzky had begun to leave behind the focused dedication to athletics that dominated her high school days.
"There was a burn-out factor," she says, that nudged her attention from sports to music. In her freshman year, she joined Mizmor Shir, Harvard's Jewish a cappella group, with which she remained a member through her sophomore year.
A concert by The Kuumba Singers captivated her, and she joined the group (which doesn't audition would-be members) halfway through her freshman year. The following year, she became a member of the Brothers and Sisters of Kuumba, a subset of the entire 100-member ensemble, and by her junior year, Paretzky had stepped into a leadership role as vice president. She has served as Kuumba's president this past year, the first Jewish president in the group's 33-year history, she notes.
Like Mizmor Shir, Kuumba fostered a sense of community and family that attracted Paretzky. Even more, the two groups are similar in their spiritual focus.
"There are a lot of ways to sing, but there's something very, very important to me about singing music that moves me, that moves people, that has a larger, more universal significance to it," says Paretzky.
Last year brought two pinnacle moments to Paretzky's Kuumba and Harvard experience: With the Brothers and Sisters of Kuumba, she performed with the endlessly innovative musician Bobby McFerrin during his Learning From Performers visit in February 2002.
"He was really moved by the music that we do, and we of course are in awe of his talents, his centeredness, his genius as a musician and a person," she says.
Soon after, McFerrin invited the singers to join him at a music festival in Germany; in June 2002, Paretzky and 30 other Kuumba singers traveled to the musical city of Leipzig, where they performed before 15,000 people.
"It was just amazing," she says of the festival, in which the Harvard group was the only nonprofessional group participating. "It made me realize nothing's really impossible. It's all about just going where the music allows you to go."
Kuumba, Hillel, and MLK
Paretzky has followed the music beyond rhythms and harmonies to a broader exploration of her identity and her faith. At her small Jewish high school – "loved it, loved it, loved it," she says – she was one of the only people of color. Joining Kuumba, which is ethnically diverse but rooted in a black musical tradition, she found an opportunity to celebrate her black heritage.
"Kuumba's sort of opened those doors for me," she says, adding that she's remained active in her Jewish faith through Harvard Hillel. "It wasn't as if I had to choose between certain parts of my identity."
Still, the gospel and spiritual music that comprises Kuumba's repertoire is heavily Christian, and many members, says Paretzky, are devout Christians. While immersing herself in a different faith community was sometimes challenging, she says, the genuine love and respect Kuumba members feel for each other have made the experience rewarding.
"Being in such a strongly religious community allowed me to step into another faith … to step into a community that loves that faith and see it through the eyes of people who love it," she says.
It also allowed her to challenge the stereotype that all black people are Christian.
Her thesis, which explored the multireligious influences of Martin Luther King's leadership in the civil rights movement, took an academic and historical lens to that same concept. In it, the history and literature concentrator explored the influences of non-Christian religious leaders like Gandhi and Rabbi Abraham Joshua Heschel on King's work.
"I contended with the majority of historical analysis that only focuses on his Christian attachments and argued that he's less of a solely Christian leader and more of an interreligious leader," she says.
Preparing for a musical life
Paretzky has found a deep appreciation for the arts at Harvard; she commends the University for keeping the arts integral to its broader academic mission. Her own experience with Kuumba, singing the music of oppression and protest as well as spiritual fulfillment, taught her that the arts are far from irrelevant.
"So many of the artists, musicians, singers that I was spending time with are committed to the arts because they're committed to social justice," she says. "The arts are not marginal to changing the world."
As Paretzky stares down her future, this one-time jock is now preparing to make a life in music.
"By junior year, I had sort of a very serious revelation, a personal epiphany," she says. "I realized that [music] was something I wanted to devote my life after college to, and see where it took me."
She spent last summer cultivating professional contacts in New York City, and plans to stay in Boston this summer to record a demo before heading to one of the nation's musical capitals, New York or Los Angeles.
Naming artists like D'Angelo, Rachelle Ferrell, Erykah Badu, and Stevie Wonder as some favorites, Paretzky describes her own musical vision as falling into the neo-soul, R&B, or groove categories.
"I want to do mainstream music so it's popular and on airwaves but is actually good," she says. "Right now, that's an oxymoron, in my opinion."
Popularity will preclude the kind of spiritual and protest music she's performed at Harvard, she acknowledges, yet she cherishes her experience with The Kuumba Singers as the highlight of her college days.
"It's changed my life," she says. "To be able to stand in Sanders Theatre and sing 'Motherless Child' is not something you're going to get every day."