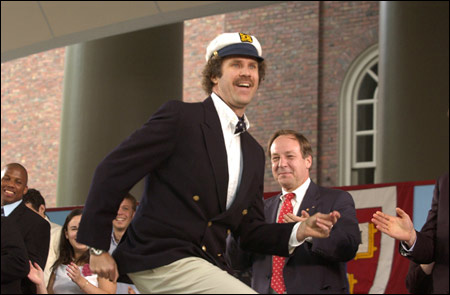 Harvard's Class of 2003 reaped sage advice and congratulatory wishes from not one but two Class Day speakers yesterday (June 4): "Saturday Night Live" comedian and actor Will Ferrell and President George W. Bush, impersonated with hilarious accuracy by Ferrell.
"You can always remember what year you graduated, because 2002 is a palindrome," Ferrell's Bush told the 2003 graduates.
As himself, Ferrell offered the seniors a sobering dose of what it will be like in the "real world" into which they are heading.
Read the full transcript of Will Ferrell's speech
"You are about to enter a world . . . in which your limo to the airport is often a half hour late," he deadpanned. "I'm sorry, graduates, but this is a world where you aren't allowed to use your cell phone on airplanes, during live theater, at the movies, at funerals, or even during your own elective surgery."
As Bush, he warned the graduates that the economic downturn would have an impact on their futures.
"The chances of finding a decent job are about as good as finding weapons of mass destruction in the Iraqi desert," he said. "Slim and none."
'Old School' of hard knocks
Ferrell, whose success in the recent film "Old School" cemented his popularity among the seniors, entered Tercentenary Theatre in a white yachting cap and double-breasted blazer, dancing with awkward exuberance to the strains of Kool & the Gang's "Celebration." He bear-hugged Dean of Harvard College Harry Lewis before his strutting changed to a stunned confusion.
"This is not the Worcester, Mass., boat show, is it?" he said, adding that since he left "Saturday Night Live" a year ago, he had mostly been doing public speaking.
Evoking the over-the-top caricatures that made him one of "Saturday Night Live's" best-loved cast members, Ferrell broke down when he recalled that he "never got a call back" from Harvard's admissions office.
"Damn you, Harvard!" he exclaimed in mock rage.
He drew from the wisdom gained at his alma mater, the School of Hard Knocks (school colors: black and blue), to give the seniors a taste of the humility they will face after Harvard.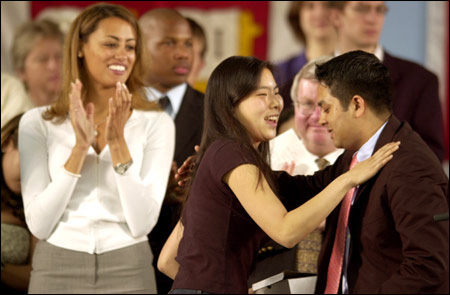 "Just try . . . paying for a dinner for 20 friends with an autograph. It ain't that easy!" he said with mock horror.
In reality, Ferrell graduated from the University of Southern California, where he studied sports information and launched a brief career as a sports newscaster. Prior to joining the "SNL" cast for seven seasons, he was a member of the improvisational comedy troupe The Groundlings. In his seven seasons on "SNL," Ferrell created such memorable characters as Spartan Spirit cheerleader Craig and middle school music teacher Marty Culp, and impersonated Alex Trebek, Janet Reno, and Bush.
In addition to "Old School," Ferrell's film credits include "Jay and Silent Bob Strike Back," "Zoolander," "Austin Powers: International Man of Mystery," and its sequel, "The Spy Who Shagged Me." Introducing Ferrell, John Lee '03 poked fun at Ferrell's cinematic debut in the "Saturday Night Live" skit-inspired "A Night at the Roxbury."
"I want those 84 minutes of my life back, Mr. Ferrell," said Lee.
Ferrell returned the gibe in his speech, as he predicted the future success – or not – of the members of the Class of 2003.
"One of you, specifically John Lee, will spend most of your time hanging out in your car eating nachos," he said.
Friends, classes, student loan payments
In his opening remarks, Senior Class First Marshal Krishnan Subrahmanian revealed to his classmates that he had been searching for the legacy his time at Harvard might leave. His concern that he would disappear into Crimson obscurity was abated, he said, upon receipt of his student loan repayment schedule.
"If all goes well and interest rates stay the same, no one at Harvard will forget about me until May of 2014!" he said.
Subrahmanian used his speech to pick a final bone with Harvard's housing office, which assigned him to Greenough ("It's on the Orange Line – Forest Hills stop") as a freshman and the Quad's Pforzheimer House ("For those of you who don't know, it's in New Hampshire") as an upperclassman. On the bright side, he said, he really bonded with his housemates during their trips on the commuter rail.
Class Day, the day-before-Commencement celebration that honors the senior class, also featured the presentation of the Ames Awards for public service to Emily Wu and John Palmer Truelson, and featured four student speakers.
In the traditionally serious Harvard orations, Melissa Inouye spoke about "Choosing Good Beginnings" and Thomas Miller issued "A Warning Against Passion."
Delivering the humorous Ivy Oration, Courtney Bass cautioned seniors of the hazardous post-Harvard environment that would require new skills like social niceties, showing up for work before 11 a.m., and dating.
"This adjustment will be hard, but I'm sure that at least half of us will make it, and those who don't can always come back as GSAS students," she said.
Ivy Orator Holden Karnofsky offered wry counsel to the famously driven Harvard students.
"There's a saying here at Harvard: 'Friends, classes, sleep; pick two.' I recommend double sleep," he said.