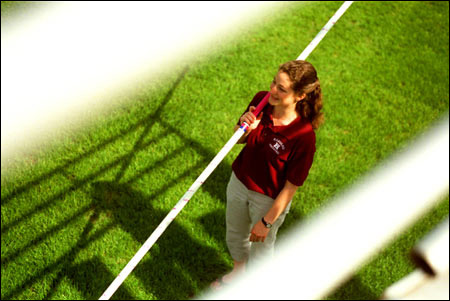 Harvard senior Amy Bei became interested in tropical diseases in the summer after high school, when she worked at a lab in San Francisco, near her home in Santa Rosa, Calif.
Four years later, Bei's focus has narrowed a bit, but it hasn't wavered. After graduating June 5, Bei plans to head to Tanzania to do fieldwork on malaria, with the ultimate goal of working on a vaccine for the tropical killer.
Statistics on malaria are staggering. The disease kills an estimated 1 million people annually and infects as many as 300 million, according to the World Health Organization.
"[Tropical illnesses] are diseases that kill millions of people each year but are largely ignored because they affect people mostly in the Third World," Bei said. "I want to work on malaria vaccine design."
Bei's Fulbright Scholarship will help her fulfill that goal. For the next year, she'll work in the Tanzanian capital Dar-es-Salaam, taking blood samples and analyzing them for the malaria genes that are responsible for the rise of resistance to a major anti-malarial drug, chloroquine.
Bei said she hopes the experience helps her decide her future course. She's considering a career in medicine, but she's also interested in doing laboratory research and possibly even field research.
"I've been wanting to go to Africa since I was a little kid," Bei said. "It's really just a dream come true to be able to do this and to have the funding come through."
If her past is any indication, Bei is up to the challenge. In addition to her interest in tropical diseases, Bei has become an accomplished fencer, competing in saber, which she said is a good match for her because it is the fastest of the weapons. She was also a pole-vaulter on the Harvard Women's Track and Field Team and shares the Harvard women's record of 11 foot 1.75 inches.
Bei began pole-vaulting when she was in sixth grade, after watching the sport in the Olympic games. Her first pole was just a big stick, she said, and her first obstacle the neighborhood hedges.
She began officially pole-vaulting in junior high school, she said, and continued through college. She's short for a pole-vaulter, at just under 5 feet tall, but she said she makes up for the lack of height and weight with speed down the runway.
Bei thinks her track skills – speed, agility, and flexibility – aided her saber fencing. She doesn't rule out one day becoming a fencing instructor.
Besides her academic and athletic endeavors, Bei also worked in the community, reaching out to help local children with developmental disorders. She has been working with one girl for four years through Phillips Brooks House Association's Best Buddies program, which matches Harvard students with developmentally delayed or learning disabled children and adults in nearby Cambridge.
The program is fairly informal, Bei said, and she has visited her buddy for between two and five hours a week.