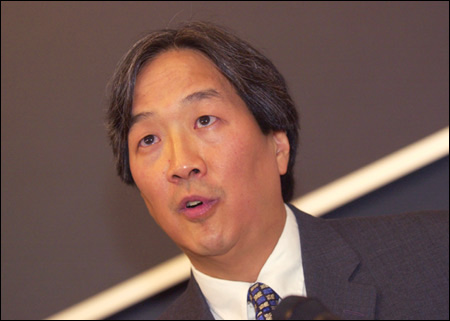 America's public health system is stronger due to changes initiated after the 9/11 terrorist attacks in a coordinated effort that must be ongoing, former Massachusetts Public Health Commissioner Howard Koh told a Kennedy School conference on bioterrorism preparedness Tuesday (June 10).
Koh, now an associate dean at the Harvard School of Public Health, was the keynote speaker for "Bioterrorism Preparedness: A Conference for Senior Practitioners and Professionals." The conference was sponsored by the Executive Session of Domestic Preparedness at the Kennedy School of Government, the Center for Public Health Preparedness at the Harvard School of Public Health, Lincoln Laboratory, and the Security Studies Program at the Massachusetts Institute of Technology.
"No one of us knows everything," Koh said, "so we depend, literally with our lives, on our colleagues."
The best way to prepare for the possibility of bioterror strikes is to build and maintain a strong public health infrastructure that can respond equally well to a terrorist attack with biological agents and to a new disease outbreak unrelated to terrorist activity, Koh said.
In fact, Koh said, that has begun to happen. He read to the audience a letter from the public health commissioner of Maine, describing state health officials' response in the recent case of arsenic poisoning at a Maine church. The rapid response and communication resulting in the identification of arsenic as the poison and the provision of an antidote was all made possible with infrastructure built up after 9/11.
Koh used other recent examples of disease outbreaks, also unrelated to terrorist attacks, such as severe acute respiratory syndrome, or SARS, which drew unprecedented attention from health officials around the world and which, in its diagnosis, illustrated the benefit of coordinated, multi-pronged attacks when new diseases appear.
Koh cited statistics from School of Public Health Dean Barry Bloom that it took two years to identify the agent responsible for AIDS, while with SARS an international network of labs took two weeks to identify the cause and another two weeks to decode its entire genome.
It all points to a redefinition of the idea of leadership, Koh said. Traditionally, a leader has been someone who is "fiercely and ferociously independent," but in today's world of emerging disease, bioterrorism threats, and the potential for rapid global transmission of disease, a public health leader has to rely on others.
"In this day of bioterror, leadership means being fiercely and ferociously interdependent," Koh said.
It is at least partly in conferences like Tuesday's that the connections between professionals in different areas are made, according to Arnold Howitt, executive director of the Taubman Center for State and Local Government at the Kennedy School. Howitt, who introduced the day's events, said all one has to do is look at the day's headlines that show the FBI draining a pond in Virginia in search of clues to the anthrax mailings to see how important the subject of bioterror preparedness still is.
Howitt said later that professionals from a variety of fields, including public health, emergency medicine, law enforcement, and emergency management were invited to the event. He was hoping the professionals would learn from those with academic backgrounds and vice versa during the day.
The conference featured panel discussions on several bioterror-related topics, such as health surveillance, disaster medicine, bioterror agents, quarantine management, biosensing technology, smallpox, biodefense strategies, and public information strategies.
Howitt said that professionals in many fields have been gaining experience in the use of strategies such as quarantines, which haven't been broadly used in the United States in many years but which have been used abroad to control SARS.
"There's a tremendous amount to learn, and being able to exchange ideas is critical," Howitt said.
The post-9/11 era, Koh said, is fraught with irony. Public debate centers on smallpox, a disease that has killed more people than any other over time, but which officials believe has been eradicated. The call for increased bioterror preparedness comes at a time when budget cuts are hurting public health programs. And hospitals are struggling financially and closing at a time when some are raising questions about "surge capacity" or the system's ability to treat large numbers of people who may need care in a bioterror attack.
"It is best to build a public health system that protects people from all threats, real and potential," Koh said.
The public health community faces enormous opportunity along with the enormous obstacles, Koh said. During the height of the anthrax episode, he said, he sat down every day with officials from state agencies that he'd never have contacted before. Those contacts, he said, opened lines of communication that could prove valuable in an emergency or in dealing with the new diseases such as AIDS, SARS, and Lyme Disease, which have emerged just in recent decades.
"We are more connected than ever before, we are talking with people we had never conceived of before," Koh said. "All disasters are initially local, all responses are initially local, but ultimately, we're fiercely interdependent."