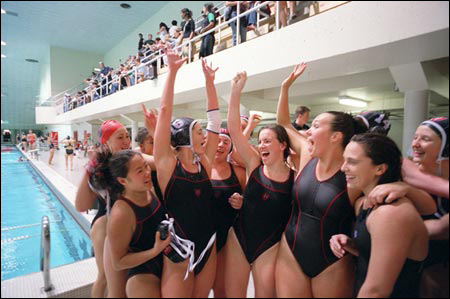 The Harvard women's water polo team closed out its season with a sixth-place showing at the Collegiate Water Polo Association's Eastern Championships this past weekend at Blodgett Pool. Splitting four contests, including a tough overtime loss against Hartwick on Sunday (April 27), the Crimson squad "seeded No. 6 at the start of the tourney" finishes its 2003 campaign at 11-16 (2-2 Ivy). Indiana University placed first in the 12-team tournament to deny the No. 1-seeded University of Michigan its second straight title.
Harvard opened play Friday afternoon (April 25) with a 6-4 victory over Villanova. Junior netminder Elana Miller recorded 12 saves in the win, while senior Tiana Peterson paced the Crimson's attack with two goals.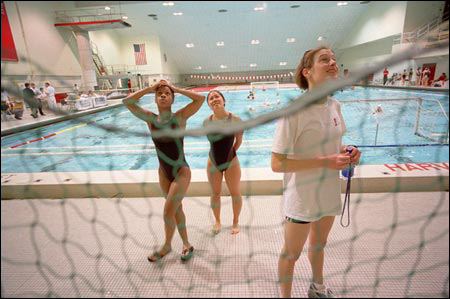 On Saturday (April 26), Harvard fell to Princeton for the second time this season, as a physical Tigers team overwhelmed the Crimson, 11-6. A close match throughout the first half, Princeton exploded with a series of counterattacks to put the game out of reach early in the third quarter.
Knocked out of championship contention following the Tiger loss, Harvard remained poised opposite George Washington University on Saturday, edging the Colonials, 9-7. Sophomore Cristina Codini notched a goal in the waning minutes to clinch the win, setting up the fifth-place contest against Hartwick on Sunday (April 27).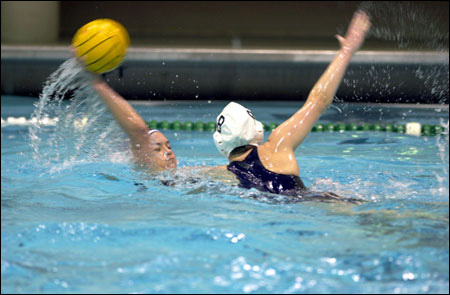 Down a goal with just over a minute remaining in the tournament's final day, Codini "taking advantage of the six-on-five situation" jabbed the ball past Hartwick's keeper to even the tally at five, forcing the overtime. However, the fifth quarter wasn't so kind to the Crimson, who failed to protect the cage, as the Hawks netted four-straight goals to take the match, 9-5.