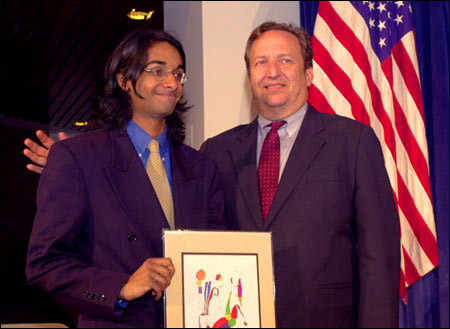 Harvard University President Lawrence H. Summers presided over the 20th anniversary of The Stride Rite Community Service Program Thursday evening (May 8), presenting three seniors with $25,000 postgraduate fellowships to fund yearlong service projects that will ideally launch lifetime dedication to public service.
The Stride Rite awards ceremony and dinner provided a celebratory highlight to a two-day conference, called "Spirit of Change: Direct Service to Politics," that wrestled with the disconnect between public service and politics.
"This is a happy night," said Summers in his brief remarks at the Kennedy School of Government's ARCO Forum. "We are celebrating things that are important to the University … and that I know are very, very important to our community." Summers expressed his gratitude toward the Stride Rite Foundation, which, with the support of Chairman Arnold Hiatt, has committed $5 million to more than 1,000 Harvard public servants since 1983.
Summers presented postgraduate fellowships to graduating seniors Reyna Paz Hernandez, Gita Angara Rao, and Aaron Schildkrout.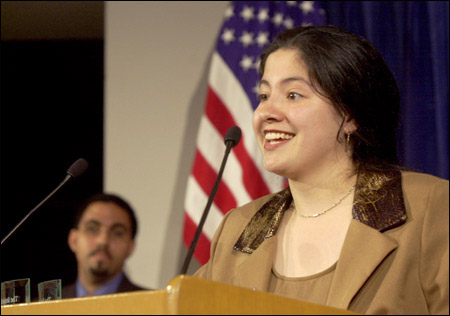 Hernandez will return to her native Chicago to establish a nonprofit resource center in the city's northern suburbs to deal with Latino issues. Sprung from Hernandez's summer experience with the National Hispanic Institute, the center will help address immigration and education issues, and will serve as a central point for community initiatives combating discrimination and encouraging civic and political involvement within the community.
Rao will enhance FitNut, a fitness program she developed through Project Health at Roxbury's Madison Park High School that aims to improve the health of obese adolescents through nutrition and exercise lessons. With her Stride Rite fellowship, Rao will expand FitNut to five new community centers in Roxbury, Dorchester, Jamaica Plain, and Mattapan and will establish partnerships between families, community centers, sports programs, and local universities.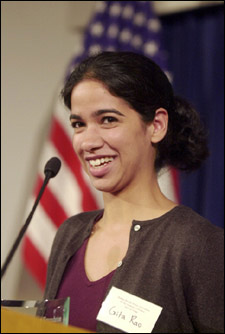 Schildkrout will be directing "a school within a school" at the Codman Academy Charter School in Dorchester for students experiencing difficulty passing the ninth grade. Schildkrout's project will work with five to 10 students through an alternative approach to education by creating personal programs that focus on real-world part-time internships that promote academic achievement, teach life and job skills, and inspire students to excel in school and life.
Ten graduating seniors also received $1,000 2003 Senior Recognition Awards for their outstanding contributions to public service during their undergraduate years. Senior Recognition Award winners are Charles Chang, Laura Clancy, Michelle Lee, Melissa Luna, Tri Phuong, Shanna Ricketts, Tim Schneider, Christina Shuman, John Smith, and Krishnan Subrahmanian.
Veronica Rivera, a senior and the administrator of the Stride Rite program, was surprised with a Senior Recognition Award as well, although she had humbly removed her own nomination from the process.
From public service to politics
The "Spirit of Change" conference May 8 and 9 surrounded the Stride Rite Awards ceremony with discussions that sought to better connect public service to politics. The conference represented a collaboration between the Phillips Brooks House Association (PBHA), Harvard's student-run community service organization, and the Institute of Politics (IOP), which aims to inspire young people into lives of politics and public service.
The first conference of its kind at Harvard, "Spirit of Change" was organized in response to results from the IOP's national survey of college student attitudes toward politics and public service. Not only did this annual survey show a deep divide between the two extracurricular activities, it also signaled significant favor for public service. Two-thirds of college students are involved with public service, the survey said, while less than 10 percent were involved in a political campaign.
"Why, these days, is politics of relatively little interest to students, even though there is great energy devoted to community service and public service?" asked Professor of Government Michael Sandel, who moderated a town hall discussion on the topic Thursday afternoon.
Sandel, the Anne T. and Robert M. Bass Professor, launched the discussion by asking the audience of students and invited politicians, policy advocates, and direct-service providers to recall their earliest political memory. While students recalled the Iran-Contra scandal, Michael Dukakis' defeat in 1988, or Nancy Reagan's "just say no" campaign, older adults in the audience recalled loftier political events: the inauguration of John F. Kennedy or the New Deal policies of Franklin Delano Roosevelt.
"You might not believe this, but I remember Abraham Lincoln delivering the Gettysburg Address," said Stride Rite's Hiatt in jest.
Probing the issue of waning student interest in politics, one student suggested that the lack of inspiring leadership in his lifetime compared with leaders like Roosevelt or Kennedy may contribute to his fellow students' disinterest in politics.
Others suggested the perception of politics as corrupt and the appealing immediacy of providing direct service to clients might steer students toward public service instead of politics.
Yet politics has power to effect broader change than direct service, making it an important partner to community service, said several in the audience.
"It's wholesale change versus retail," said Sandel.
While Sandel's town hall discussion failed to produce obvious solutions to the deep divide between public service and politics, it fueled a lively discussion with a wide range of perspectives.
One recent Harvard graduate related how his public service experience at the University Lutheran Homeless Shelter (now the Harvard Square Homeless Shelter) during the 1990s led him to politics. In his three years at the shelter, housing prices in Cambridge doubled. When he started, he said, he could help clients find their own housing for $400 per month. By 1999, however, "we didn't have the power to help people move into $1,000-per-month studio apartments," he said. "That's why I got into politics."
Katya Fels '93, former recipient of a Stride Rite Fellowship and the founder and executive director of On the Rise, a Cambridge nonprofit supporting homeless women, argued that politics and public service are not an either-or proposition.
"To do direct service well means to use your experience to affect policy," she said.