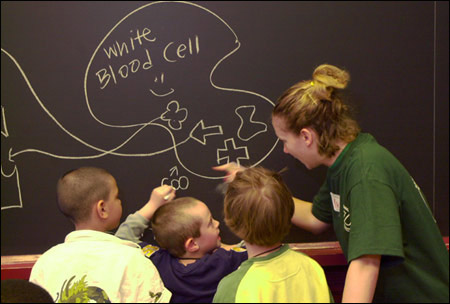 Staff photos by Jon Chase
Early last week (May 6), a new generation of scientists from Cambridge public schools – more than 250 of them – descended on the Yard to take part in this year's annual Science Day, a daylong exploration of the human body sponsored by Harvard ExperiMentors, a Phillips Brooks House Association service program. Celebrating its 10th anniversary, ExperiMentors is a yearlong program that sends about 50 Harvard volunteers to teach weekly hands-on science lessons in classrooms throughout Cambridge.
"Science Day marks the annual culumination of our program. It's our way to say 'thanks' to all our students for their interest," said ExperiMentors' co-director Tony Perez '05.