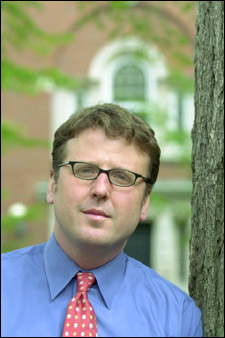 Phillips Brooks House Association (PBHA), the student-led public service agency at the University, has named Gene Corbin as its next executive director, PBHA President Rini Fonseca-Sabune '04 announced yesterday (May 14). Corbin, a senior research associate at the Kennedy School of Government (KSG) with several decades' experience in public service management and student leadership, assumes this position June 2.
"Gene represents a mix of rich experience and leadership in direct service and advocacy, along with an energetic passion for students," said Fonseca-Sabune. "At PBHA, we work both in service and in advocacy for structural change. I think Gene's understanding of how to connect the two is crucial."
A native Texan, Corbin provided leadership in numerous service and advocacy efforts while pursuing an undergraduate degree in sociology from Stephen F. Austin State University in Texas (1984). He also holds a master of divinity from Southern Seminary (1990) and has involved students in social justice through several faith-based positions.
Prior to pursuing a masters in public administration at the KSG in 2001, Corbin was an organizer with the Industrial Areas Foundation in Austin, Texas, engaging grassroots citizens in public life (1998-2000). He was executive director of Stewpot Community Services in Jackson, Miss. (1993-97), a large community-based agency that provides an array of services for homeless and low-income persons. Earlier in his career, Corbin assisted a hunger relief and development organization in Haiti and taught in an inner-city school in Fort Worth. At Harvard, Corbin has received the Derek Bok Award for Teaching Excellence for his work as a teaching fellow in several government courses.
"I am incredibly impressed with PBHA's students and their programs. Their commitment and dedication is nothing short of amazing," said Corbin.
As executive director, his role is to support student leaders of PBHA in training, developing programs, fundraising and financial accountability, and outreach. Corbin sees advocacy for the organization as one of his key roles.
"PBHA is this incredible gem of which I think a lot of people are unaware," he said. "I see myself really being an ambassador to raise attention and support for what the students are doing."
An independent 501©3 nonprofit, PBHA was founded in 1904 and is often called "the best course at Harvard." PBHA currently oversees 75 programs with 1,500 volunteers serving 10,000 persons throughout Cambridge, Boston, and beyond. PBHA programs include 12 summer camps, 11 after-school programs, two homeless shelters, mentoring, elderly outreach, and community organizing and advocacy on numerous issues.