Three Boston educators were named Conant Fellows at a ceremony hosted by Graduate School of Education (GSE) Dean Ellen Condliffe Lagemann and Boston Superintendent Thomas Payzant at the Harvard Faculty Club on Monday (May 19). The Conant Fellowships, named for Harvard President Emeritus James Bryant Conant, were established in 1986, at Harvard's 350th anniversary, to recognize the contributions of educators in Boston and Cambridge public schools. The fellowships, which support study at the Harvard Graduate School of Education, are awarded for academic and professional achievement.
These three educators join the nearly 100 Boston and Cambridge educators before them who have studied at GSE and returned to their communities to take on leadership positions.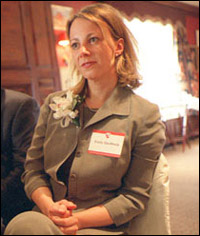 Emily Kalejs Qazilbash directs the Boston Public Schools New Teacher Induction Program as assistant director at the Center for Leadership Development. She has also taught third grade at the Boston Renaissance Charter School in Boston, and grades two and three in the Baltimore public schools. Qazilbash designed and directed the Boston Teacher Licensure Program; co-wrote the Teacher Induction Plan for the Boston Public Schools; authored The New Teacher Induction Guide (2002), and designed the New Teacher Handbook. She has served as an elementary literacy consultant for Teach for America, and acted as leader of Cultural Exchange for the American Field Service in Russia and the United Kingdom. Qazilbash will seek a doctoral degree in elementary and secondary education in the area of administration, planning, and social policy.
Folashade Jean Cromwell is a researcher at TERC, a leading education research and development organization, where she focuses her current work on the way that fourth-grade students learn physics concepts at the Young Achievers Science and Math Pilot School. Cromwell has mentored preservice teachers from Wheelock College; co-written and administered a Gender Equity Grant from the Scott Foundation; participated in an on-site teacher research group; and researched, authored, and presented a paper at the national conference of the Coalition of Essential Schools. She holds Massachusetts teaching certification in Elementary Education (first through sixth) and Communication and Performing Arts (K through 12), and is finishing her Elementary Principal Certification. Cromwell is pursuing a doctoral degree in administration, planning, and public policy.
Maximo Martinez has taught science at Dorchester High School since 1998. His previous teaching experience includes work in the public school system in Albuquerque, N.M. Martinez has served as a mentor to student teacher interns from the University of Massachusetts, Boston, and has been a student mentor. He has also served on the Dorchester High School Site Council. He will pursue a master of arts in education degree in the School Leadership Program.