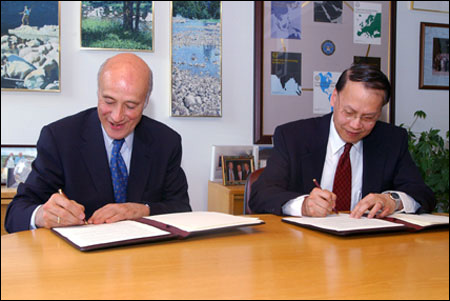 Joseph S. Nye Jr., dean of the Kennedy School of Government, and Director-General C.K. Liu of the Taipei Economic and Cultural Office in Boston, representing the government of the Republic of China on Taiwan, signed a memorandum of understanding in Cambridge on April 29 to affirm their intention to develop and conduct an executive training program for senior officials of the Republic of China government who are involved in Taiwan's participation in the World Trade Organization (WTO).
Chaired by Robert Lawrence, the Albert L. Williams Professor of International Trade and Investment, the training program will strengthen the leadership and strategic management skills of senior Republic of China officials, enhance their ability to contribute to political and economic development, and support the culture of professionalism, integrity, and service as their government enters a new international relationship within the context of the WTO.
Nye noted that in the trade realm, Taiwan's participation in the WTO is "a symbol of how much Taiwan has accomplished." This program will be "helpful for Taiwan as it continues its spectacular progress in the area of trade." Director General Liu said that the January 2002 accession of Taiwan into the WTO was an important milestone for Taiwan. He said that this memorandum of understanding "signifies the determination of [his] government to honor its responsibilities under WTO." In conjunction with an ongoing program between the Kennedy School and the Ministry of Foreign Affairs, this new program adds to the continued productive cooperation between the Kennedy School and Taiwan.