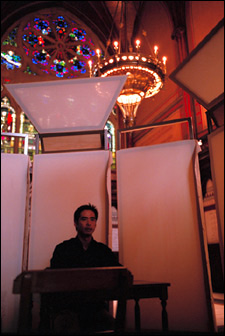 When Lee Mingwei writes a grant application, he always hesitates before filling in the section that asks what medium he works in. Most artists are able to answer, "metal," "stone," "oils," or "mixed media." Lee's medium is people.
For example, in "The Dining Project," he cooked a meal and then shared it with one museum visitor chosen daily by lottery. In "The Letter Writing Project," he constructed three Zen-inspired pavilions of wood and translucent glass in which visitors were asked to write a letter in the spirit of the space. In "The Sleeping Project," a stranger, again chosen by lottery, spent the night with the artist, sleeping in twin beds in a spare, specially designed space.
"I'm very comfortable with people not knowing if my projects are art or not," he said. "When people ask me, is it art? I ask them, what is an apple? Usually they give a descriptive answer – it's a fruit, it's red, etc. Then I ask, when do you really know it's an apple? And most people say, when I eat it. That's when you know it's art, when you experience it with your senses, with your memory, when you own the work. That would be a better way to decide it's art – or maybe you don't have to decide at all."
Lee is at Harvard through May 4 as the Marshall S. Cogan Visiting Artist, sponsored by the Office for the Arts. For his Harvard residency he has created "The Seers Project," an ongoing event taking place in the transept of Memorial Hall.
There in the light of the towering stained glass windows, amid the stone plaques commemorating Harvard's Civil War dead, Lee has constructed a wood and canvas enclosure in which people may consult the seers.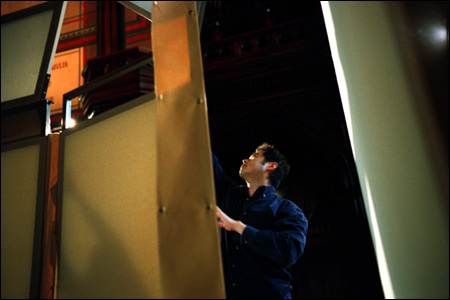 Who are the seers? They are members of the Harvard community talented at card reading, astrology, or other forms of divination whom Lee has induced to "come out" and take part in the project. Each evening beginning at 5, a different seer will occupy the enclosure, ready to tell the fortunes of visitors on a first-come first-served basis.
Lee has been interested in the paranormal since he was a child in Taiwan and saw local shamans enter a trance state as a way of curing diseases or solving problems for those who consulted them.
"I thought, there must be these kinds of people at Harvard. I wanted to bring them forward because, after all, it is a part of humanity."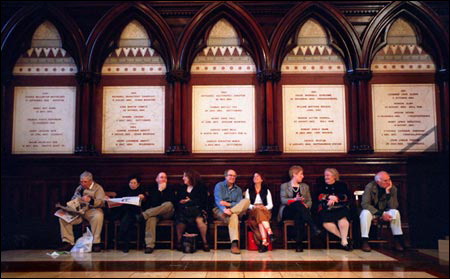 But like all Lee's projects, the underlying theme is trust and intimacy between strangers. His art consists of setting the stage in a way that allows such interactions to take place. Perhaps then, art for Lee is not a final result, but only a means to an end.
"I think that when people experience this under the name of art, they feel more comfortable than they would at a psychic fair."
Harvard affiliates and the general public are welcome to join the community of seekers at the pavilion installed in Memorial Hall through May 4. Each evening, approximately 15 people will have an opportunity to consult with the seer, with seekers admitted on a first-come, first-served basis.