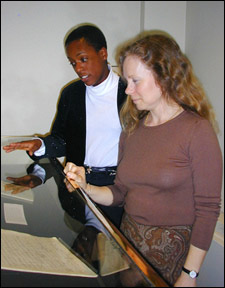 Drawing on the collection of the Loeb Music Library, the new exhibition "In Her Own Hand: Operas Composed by Women, 1625-1939," features little-known scores by women composers, and follows the development of opera from the Italian courts in the 17th century, to the courts of the Holy Roman Empire and the German princely states in the 18th century, and finally to the public opera houses of postrevolutionary Paris and beyond. With many scores on display for the first time, the exhibition shines a light on a veiled world of female opera composers.
April Lynn James, Ph.D. '02, collaborated with library staff to stage the exhibition. Working with Sarah Adams, project director, US RISM Office and Keeper of the Isham Memorial Library, and Andrea Cawelti, project cataloger for the Ruth Neils and John M. Ward Collection of Opera Scores, James drew from the Loeb Music Library's Ruth Neils and John M. Ward Collection of Opera Scores for the content of the exhibition.
"One of my primary interests in musicology is the recovery of women's works. This exhibit offered me a prime opportunity to do just that. For instance, we have included a section titled "Unknown Except by Their Works," which displays pieces by virtually unknown female composers. Some scores are being seen by researchers and music scholars for the first time and I hope to eventually perform and record some of the material so it can be heard as well."
Featured is Maria Antonia, Electress of Saxony, a woman who wrote both the music and libretti to two operas "Il trionfo della fedeltà" ("The Triumph of Fidelity," 1756) and "Talestri, regina delle amazzone" ("Talestri, Queen of the Amazons," 1765), and performed in their premieres. The exhibition also includes works by Sophie Gail (1775-1819), daughter of a famous Parisian surgeon and composer of romances and opéras comiques as well as Elisabeth-Claude Jacquet de la Guerre (1665-1729), the first woman to have a work staged at the Paris Opéra.
"We are thrilled that April's research could enhance and inform this exhibition. In coordination with Sarah and Andrea's knowledge of the library's collection, the three have created a rich display," said Virginia Danielson, Richard F. French Librarian of Loeb Music Library.
The exhibition is on display in the Richard French Gallery, Eda Kuhn Loeb Music Library, through Dec. 1.