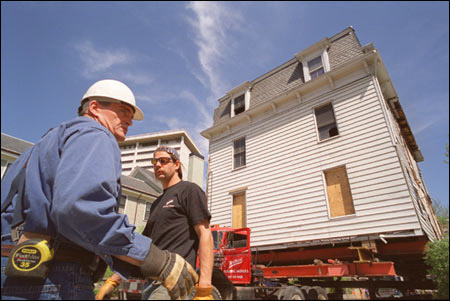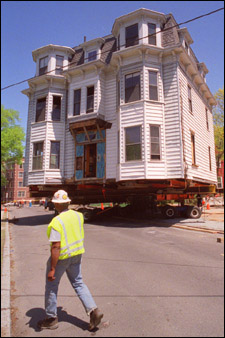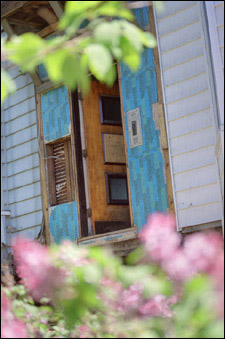 Staff photos by Kris Snibbe
Ninety-six Prescott, a house that has lodged Cambridge students for 115 years, turned the corner this weekend to assume a new location at 18 Sumner Road as a hundred neighbors, Harvard students, faculty, and staff, and city officials looked on.
The four-hour, three-block creep from Prescott Street around Gund Hall to Sumner Road was a veritable race according to officials, who expected the commute to last at least six hours. Six months in the planning, the move required the collaboration of more than 40 people, members of the Harvard project team, public utilities reps, and city police. Street signs and traffic lights were taken down and trees trimmed to accommodate the girth of the 17-room house as it was wheeled away from the place it was erected in 1882.
The house was moved to make way for the construction of a new Center for Government and International Studies (CGIS) building on Prescott Street. Now settled in a vacant parking lot, the next journey for the old home will be complete historic preservation to restore the building to its original condition. The house will then be sold as a two-family complex.
On a sunny Saturday, the move was a Cambridge spectacle.
"Why didn't they get a moving truck and boxes like when we moved?" wondered 4-year-old Tess Martin, who happened by the event on her way to the Harvard Museum of Natural History.
Others marveled at the complexity of the task, watching workers hand crank the wheels beneath the house to maneuver it directly over the cellar hole already dug on the Sumner Road lot.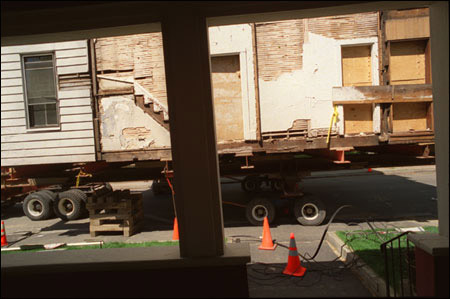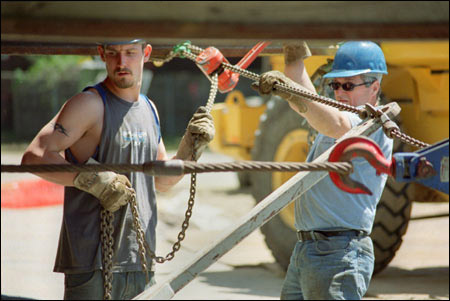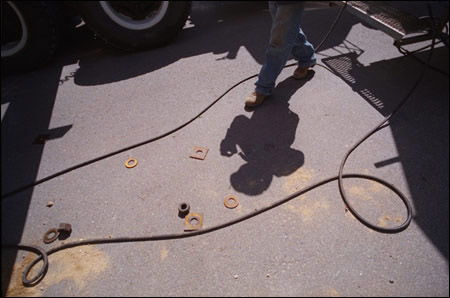 "There was the most eclectic mix of people watching throughout the day," said Lois Stanley, a member of the project team. "It was an interesting day, so 'Cambridge' in a lot of ways."