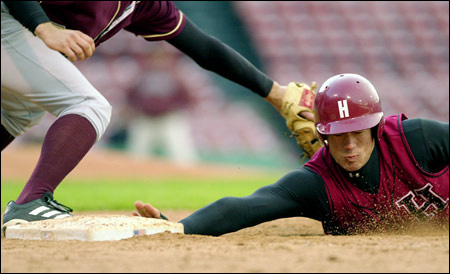 In Beanpot action this past Wednesday (April 23), the Harvard baseball team relied on some ninth-inning heroics against the University of Massachusetts, Amherst, to earn an 8-7 victory in the opening round of the 14th annual tournament at Fenway Park. The victory propelled the Crimson to its first tournament championship appearance in five years, where, despite another last-inning rally against Boston College on Thursday (April 24), the Crimson fell, 8-6.
On the road this past Saturday (April 26), the Crimson fought off a late Brown rally to hold on for a pair of wins, 7-6 and 13-12. Freshman Lance Salsgiver was 5-for-8 at the plate, collecting seven RBIs and five runs on the afternoon.
And this past Tuesday (April 29) at O'Donnell Field, Harvard hammered out 20 hits on its way to a 19-3 win against Holy Cross to improve to 17-19 (9-7 Ivy).
The Crimson – who own a one-game lead over Dartmouth for first place in the league's Red Rolfe Division – will play a pair of key doubleheaders this weekend against the Big Green. With the title on the line, the Crimson will head to Hanover for two games on Saturday (May 3) before returning to O'Donnell Field for two games on Sunday (May 4). Opening pitch on Sunday is set for 1 p.m.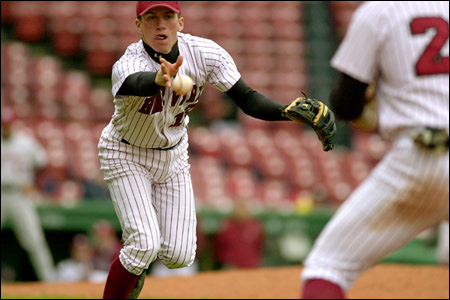 – Andrew Brooks