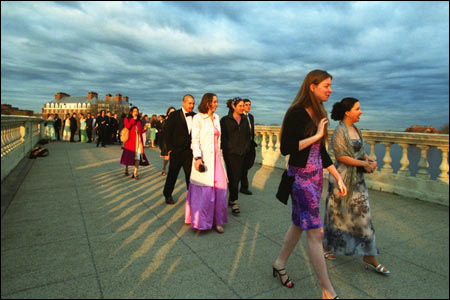 "Summer is a-coming and the winter is away-o," sang Lynn the Fool just after dawn on Thursday (May 1). The bells on her jester's cap jingled as she entertained several dozen students from Lowell House, gathered on the Weeks Footbridge to celebrate May Day with their traditional waltz.
While Lynn and other pagan revelers danced around a Maypole nearby, the Harvard students put a distinctly Ivy League stamp on the centuries-old celebration of springtime and fertility.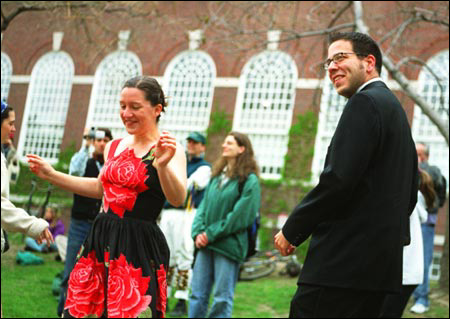 "Happy May!" greeted House Master Diana Eck, professor of comparative religion and Indian studies, pouring champagne and dispensing fresh strawberries. The dancers, dressed in formal wear and waltzing to a string trio, were undaunted by the chilly breeze off the river or the early hour.
"It's such a great Lowell House tradition. It's one of those very memorable things," said Rachelle Gould '03, who has participated in the 6 a.m. festivities all three years she's lived in the house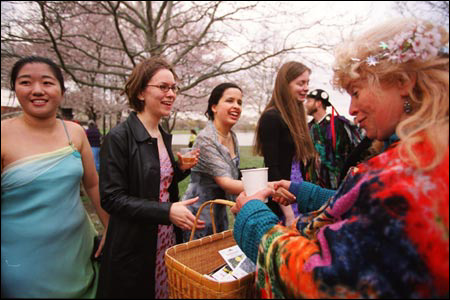 "The memory of these traditional events lasts a lifetime," said singer-songwriter and Lowell House artist-in-residence Livingston Taylor, breaking briefly between waltzes. "The inconvenience is minor."
After an hour of merrymaking, the Lowell House students retreated, some returning to their beds, others joining Lynn the Fool and the larger pagan gathering as it processed through Harvard Square. But the early morning quiet of the Charles, usually the exclusive domain of serious runners and rowers, continued to buzz with May Day gaiety and the promise of spring.
– Beth Potier