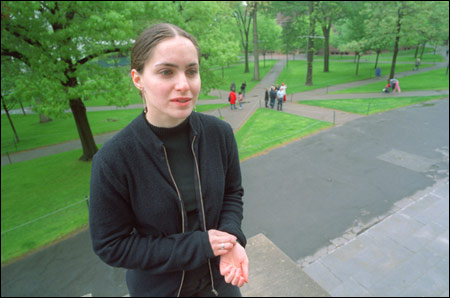 Four Harvard seniors have been selected next year's Harvard-Cambridge Scholars, allowing them to follow interests ranging from poetry to social justice to foreign policy in an unfettered program at Cambridge University.
"We choose people because we have faith in them and have faith they will choose wisely and well," said Robert Shapiro, a member of the Harvard-Cambridge Scholarship selection committee and a past Harvard-Cambridge scholar.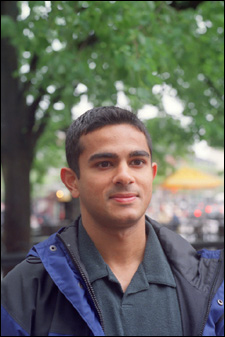 Next year's scholars are Sophia Domokos of Winthrop House, Sachin Shivaram of Lowell House, Matthew Sussman of Pforzheimer House, and Emily Wilcox of Leverett House. Domokos will be the Lionel de Jersey Harvard Scholar at Emmanuel College. Shivaram will be the Harvard-Pembroke Scholar at Pembroke College. Sussman will be the Lt. Charles Henry Fiske Scholar at Trinity College; and Wilcox will be the John Eliot Scholar at Jesus College.
The scholars were chosen from 114 applicants through written applications and interviews with selection committee members. Each scholarship allows a year of study at a particular college, with the scholars acting as Harvard's ambassadors at Cambridge each year, Shapiro said.
Shapiro said virtually all the applicants are outstanding candidates and all the finalists are accomplished individuals. The committee is looking for people who have grown during their college years, who have taken nontraditional paths, and who have great potential.
"We're looking for people who have not traveled in a straight line in their careers, who've taken fruitful tangents," Shapiro said. "Their academic records are amazing and outstanding but often that's not the only or even the chief reason we select them."
Here's a look at next year's scholars.
Sophia Domokos
Domokos was attracted to the Harvard-Cambridge Scholarships because of the flexibility the program affords.
A physics concentrator, Domokos said she switched to physics late in her undergraduate career and so had to pack in a lot of required courses, leaving little time for other interests. Domokos, from Baltimore, said she looks forward to being able to explore her literary and language interests, including Modern Greek, which she hopes to study at Emmanuel College.
"I was attracted to the Harvard-Cambridge Scholarships in particular because of their incredible flexibility," Domokos said. "I am excited to have time to write poetry again and to take language classes."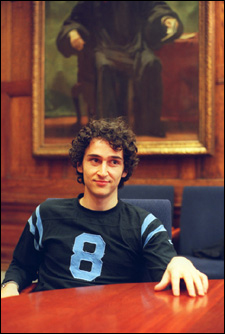 Sachin Shivaram
Shivaram, of Mequon, Wis., plans to study social and political sciences for an M.Phil. at Pembroke College. A concentrator in history and literature and in Afro-American studies, Shivaram said he is looking forward to the year at Cambridge to build foundations for his future work.
Shivaram is interested in how society allocates political power, and why that process gives some people the power to create social change and pushes others into social isolation. Specifically, he's interested in how poverty among women has affected women's political power.
"Taking a year off before law school to relax, travel – and read all those books that I wanted to read over the last four years but never had the time – will be great," Shivaram said. "I think a year of personal reflection, and a little physical and intellectual distance from everything I've come to know over the last four years, will also help me focus my career goals."
Matthew Sussman
Sussman, a history and literature concentrator, hopes to study for an M.Phil. in international relations at Trinity College. Sussman studied the history and literature of Britain while at Harvard and has been interested in the relation between events, ideas and the human imagination. He said he's thrilled to be spending a year in England where he will be able to visit the places he's read about in novels and poems.
Sussman, of Toronto, said he hopes to examine the philosophical roots of European foreign policy, focusing on international security issues and on differences from what's found in the United States.
"The Harvard-Cambridge Scholarship is an amazing opportunity to devote more time to things students are passionate about but didn't focus on as undergrads," Sussman said. "I feel that it will be pivotal in helping me decide on a future career, whether in law, academia, or the arts."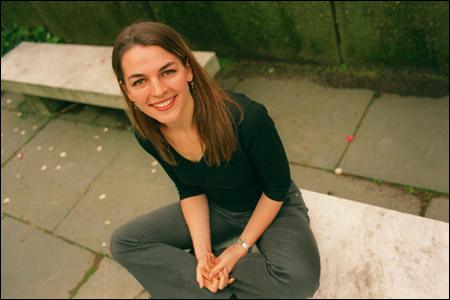 Emily Wilcox
Wilcox, of Ann Arbor, Mich., said she plans to spend her year at Jesus College studying the philosophy and anthropology of medicine and complementary health therapies. A ballroom dancer at Harvard, she is looking forward to dancing on the Cambridge Varsity Ballroom Dance Team.
A social anthropology concentrator, Wilcox is considering a career in academia. She said she likes the scholarship's sense of family and that it's administered by past Harvard-Cambridge scholars.