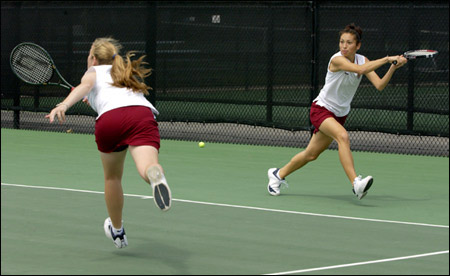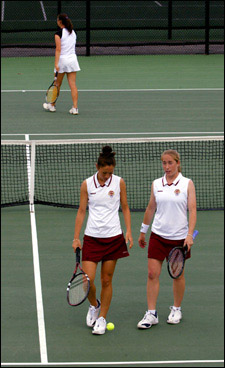 As cool as a cucumber, sophomore Courtney Bergman upset the nation's fifth-ranked women's tennis player in high-stakes NCAA tournament action this past Saturday (May 10) at the Beren Tennis Center. Down 15-40 and tied at three games apiece in the third and deciding set, Bergman, who captured the first set, 6-3, before falling in the second by the same score, held firm against Arizona's Emilie Scribot to take three straight games and the 6-3 win.
Bergman's heroics, which came a day after Harvard knocked off Oklahoma, 4-1, in the tourney's opening round, clinched the team victory, 4-3, to advance the Crimson (19-3, 7-0 Ivy) to the Sweet 16 in Gainesville, Fla., where Harvard will face No. 1 seeded Stanford today (May 15). The trip to Florida marks Harvard's 10th appearance in the NCAA Tournament, and the program's first Sweet 16 showing since the NCAA expanded the field from 16 to 64 schools.
Prior to Saturday's thriller, the No. 1 doubles team of Bergman and Susanna Lingman '05 downed Scribot and Maja Mlakar, 8-3, while freshmen Melissa Anderson and Eva Wang handed Arizona's tandem an 8-6 loss at the third spot.
In men's action, Harvard defeated Virginia Commonwealth, 4-3, in the first round of tourney play this past Saturday before falling to No. 16 Alabama, 4-0, on Sunday (May 11). Junior co-captain David Lingman and sophomore Jonathan Chu will both compete in the men's NCAA singles championships in Athens, Ga. this May 21-26. Likewise, Bergman – the recent recipient of the Player to Watch Award by the Intercollegiate Tennis Association – will go to the net in Gainesville in individual competition.