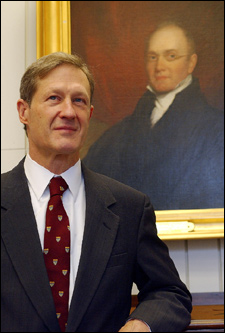 Jeremy R. Knowles and Robert C. Clark have each been named to the newly created position of Harvard University Distinguished Service Professor, effective July 1, President Lawrence H. Summers announced today.
The new category of professorships, created by the Joint Committee on Appointments of the University's governing boards, is intended principally to recognize individuals who have concluded an extended period of outstanding service as the dean of one of the University's faculties and who are returning to regular service as members of the faculty.
Knowles, who is also the Amory Houghton Professor of Chemistry and Biochemistry, served as dean of the Faculty of Arts and Sciences (FAS) from 1991 until June 2002.
Clark will conclude his 14 years' service as dean of the Faculty of Law at the end of June, when he will also become the Austin Wakeman Scott Professor of Law.
"Both Jeremy Knowles and Bob Clark have served their faculties and the University with extraordinary leadership and distinction," said Summers in announcing the appointments. "This seems a fitting way to honor their long and distinguished service as deans, and to recognize not only their outstanding past accomplishments but also their important continuing contributions to the life of the University."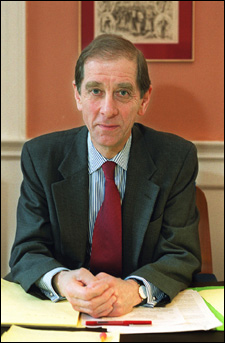 Knowles led the Faculty of Arts and Sciences for 11 years before returning to the faculty in July 2002. His deanship was marked by major initiatives to foster academic community and build faculty strength across the humanities, natural sciences, and social sciences, to augment financial aid for both undergraduate and graduate students, and to enhance the physical and financial resources of the FAS. Born in England in 1935, Knowles graduated from Balliol College, Oxford, receiving his B.A. in 1959 and his D.Phil. in 1961. He came to Harvard in 1974, and was named Amory Houghton Professor of Chemistry and Biochemistry in 1979. His research has been on the boundary of chemistry and biochemistry, and has concerned the mechanism of enzyme catalysis and the evolution of protein function.
Over his 14-year tenure Clark has guided the Law School through a dynamic period of faculty growth, curricular expansion, physical renewal, and financial strengthening. In recent years, he initiated and oversaw the strategic planning process that resulted in the faculty's plan to restructure the experience of first-year law students, to launch a new pro bono program, and to build the Law School's academic strength in areas ranging from law and economics to international legal studies to Internet law to civil rights. Born in New Orleans in 1944, Clark graduated from Maryknoll College in 1966. He received the Ph.D. in philosophy from Columbia University in 1971 and the J.D. from Harvard Law School in 1972. He joined the Harvard law faculty in 1979, and became the dean of the faculty and Royall Professor of Law in 1989. His scholarship has concentrated on corporate law, with a special interest in financial institutions.