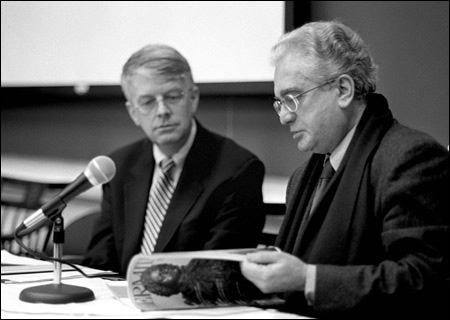 There may be quite a number of urban planners who harbor a secret dream of designing and building their own city. One of the few who actually got the chance to bring that dream to fruition was Peter the Great of Russia. St. Petersburg, the city he designed and founded, celebrates its 300th anniversary this year.
Last Thursday (April 24), the Davis Center for Russian and Eurasian Studies held a symposium titled "City on the Neva: Celebrating 300 Years of St. Petersburg." The symposium featured talks by both Americans and Russians, culminating in an evening showing at the Harvard Film Archive of Aleksandr Sokurov's extraordinary film "Russian Ark," which recapitulates three centuries of Russian history in one unbroken tracking shot through the ornate halls and corridors of St. Petersburg's Hermitage Museum.
Moving Russia's capital from Moscow to the cold, marshy banks of the Neva was part of Peter's Herculean effort to modernize Russia. St. Petersburg was to be Russia's "window into Europe," said Paul Bushkovitch, professor of history at Yale University, but also a central piece of Peter's strategy for changing Russia's government from a medieval court to an up-to-date bureaucratic monarchy.
"For 250 years, all of Russian politics took place in two small rooms in the Kremlin," said Bushkovitch. "It was a government without written rules. All of the traditions were passed down from generation to generation. All the important decisions were made by the Czar and the boyars, who were the heads of the important clans."
Peter changed all this by forcing aristocrats and civil servants to move to cold, damp, decentralized St. Petersburg where the different branches of government were situated at great distances from one another. In many cases, a boat was the only means of communication between one office and another.
"This produced a city that ran on written communication, and this fit in well with Peter's notions of legal order."
Peter employed architects from France and Italy to design the city, giving it a spacious, classical appearance very different from the typically Russian character of Moscow. By the 19th century it had become an important commercial, industrial, and cultural center and an inspiration to writers like Tolstoy, Dostoyevsky, Pushkin, and Turgenev.
Travelers from Western Europe who visited St. Petersburg in the mid-19th century, found the society there to be much freer than in other parts of Russia, according to Oleg Kharkhordin, a political science professor at the European University of St. Petersburg.
Kharkhordin quoted the liberal Russian writer Vissarion Belinsky, who said that in Moscow, people engage in "incessant tea-drinking, take you to supper, then try to marry you off." Belinsky contrasted this behavior with that of "a young woman who works in a fashion shop in St. Petersburg who is impatient to finish work so she can go out, drink coffee, and engage in social interaction."
But the city's European character did not go unchallenged, as Grigorii Kaganov, lead researcher at Moscow's Institute for the Theory of Architecture and Urban Planning, pointed out in his talk, "St. Petersburg as an Icon of Western Civilization or a Portrait of Russian Civilization?"
Although Peter modeled his capital after Venice and Amsterdam, following the latest theories of town planning, typically Russian influences eventually crept in. In the 19th century, many Russian-style buildings were erected featuring onion domes and other non-Western features. Most of these structures were destroyed during extensive reconstruction efforts in the 1930s, Kaganov said.
What Peter struggled to accomplish through royal decree now seems to be coming about spontaneously under the influence of globalization. St. Petersburg's tercentennial celebrations are focused not just on Europe, but the world, with a particular emphasis on the commercial aspects of the event.
Julie Buckler, the Harris K. Weston Associate Professor of Slavic Languages and Literatures, said that in preparation for the tercentennial, the government of St. Petersburg has concentrated on attracting foreign investors. A government pamphlet, titled "How to Sell St. Petersburg Most Profitably" suggests that the city "must commodify its monumentality."
Among the efforts that have been made along these lines is a CD-ROM that allows the viewer to tour Nevsky Prospekt, the city's principal thoroughfare, utilizing 500 drawings and engraving along with an accompanying hypertext available in multiple languages.
Other projected events include the premier of a musical based on Tolstoy's "Anna Karenina" and the naming of a minor planet "St. Petersburg 300."
But despite these efforts at commercialization, St. Petersburg still retains its unique character, a point driven home by Lev Lurie, vice editor in chief of Kalendar, a weekly review of cultural life in St. Petersburg.
In his talk, titled "Ten Ways in Which St. Petersburg Is Different From Any Other Big City," Lurie pointed out that it is the world's northernmost large metropolis, that it was built on an island landscape that only came into being in the 15th century, that it has undergone enormous fluctuations in population during its three centuries of existence, that it has been renamed more times than any other city (St. Petersburg, Petrograd, Leningrad, and now St. Petersburg again).
Finally, Lurie reported sadly, "It is the only big city in Europe without an elephant."