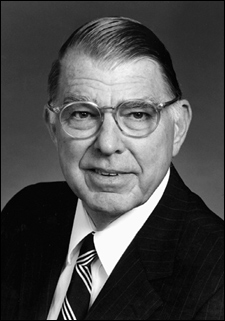 C.D. SpanglerC. Dixon ("Dick") Spangler Jr., M.B.A. '56, has been elected president of the University's Board of Overseers for 2003-04. He will succeed Thomas S. Williamson Jr., A.B. '68, following Commencement on June 5.
A Harvard Overseer since 1998, Spangler served for 11 years as president of the University of North Carolina (UNC), the oldest public university in the United States, and before that as chair of the state's Board of Education.
"Dick Spangler is a wise man," said President Lawrence H. Summers. "He has a deep devotion to education and a remarkable insight into how universities work. It has been my good fortune to come to know him these past few years and to benefit from his counsel, his thoughtful judgment, and his strong sense of values. He was a distinguished president of the University of North Carolina, and he will undoubtedly be a distinguished president of Harvard's Board of Overseers."
"I am delighted to have the opportunity to serve Harvard in this way, and honored that my colleagues on the board have given me that opportunity," Spangler said. "I consider it a rare privilege to have been associated both with the nation's oldest public university, where I spent my undergraduate years, and with the nation's oldest private university, where I studied for my M.B.A. Harvard has for centuries been a beacon for all of higher education, and I look forward to working even more closely with President Summers and others in this coming year to help advance Harvard's pursuit of excellence."
A member of the Board of Overseers' executive committee since 2000, Spangler currently chairs the board's committee on finance, administration, and management, as well as the visiting committee to the Business School. He is one of two Overseer members of the governing boards' Joint Committee on Appointments, and he has also served on the Overseers' committees on humanities and the arts, natural and applied sciences, and alumni affairs and development.
Spangler became actively involved in educational issues in the early 1970s as the father of two daughters enrolled in the Charlotte public schools. He went on to chair the North Carolina Board of Education from 1982 to 1986, and he was named president of the University of North Carolina in 1986, with responsibility for the state system's 16 campuses.
Spangler's 11-year tenure as UNC president was marked by the appointment of 15 new chancellors; systemwide enrollment increases of more than 27,000 students; the near-doubling of the university's operating budget during a period when other state systems were retrenching; and the encouragement of more active faculty competition for outside grants and contracts, which rose from $175 million annually in 1986 to $500 million in 1997. He was especially noted for his efforts to enhance access to UNC's educational programs and preserve their affordability.
After graduating from UNC, Chapel Hill, in 1954, Spangler received his M.B.A. from Harvard Business School in 1956. He served for two years in the U.S. Army, then returned to his native Charlotte. He was president of the C.D. Spangler Construction Co. from 1958 to 1986, and president of Golden Eagle Industries from 1968 to 1986. During the 1980s, as chairman of the Bank of North Carolina, he was instrumental in the bank's merger with the North Carolina National Bank Corporation, now Bank of America.
Spangler is a fellow of the American Academy of Arts and Sciences and a longtime alumni leader of the Harvard Business School, from which he received the Alumni Achievement Award in 1988. In recognition of his leadership and support, the Business School named its major new campus center for the Spangler family when the building opened in January 2001. He and his wife, Meredith Riggs Spangler, have two daughters, Abigail Riggs Spangler and Anna Spangler Nelson (M.B.A. '88).