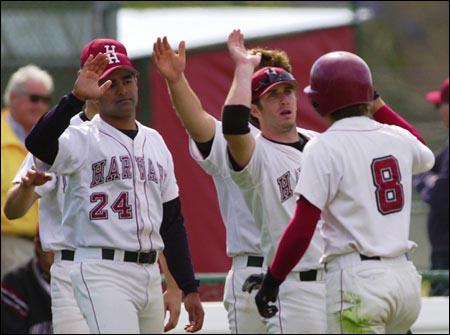 With their backs against the wall, the Harvard baseball team came out swinging against Dartmouth this past Sunday (May 4) at O'Donnell Field. Nineteen hits later, the Crimson had defeated a dangerous Big Green team, 5-3 and 14-10, to clinch its second-straight Red Rolfe Division title. The previous afternoon in Hanover, Harvard dropped a key doubleheader, 2-1 and 18-5, setting up Sunday's must-win scenario in the hunt for the division title.
In seizing the prize, the Crimson improve to 19-21 (11-9 Ivy) and earn a berth in this weekend's best-of-three series against Gehrig Division winner Princeton. Against the host Tigers, Harvard stands to capture the Ivy crown outright, along with the automatic bid to the NCAA tournament that goes with it. Last season, Harvard did just that, beating the Tigers in two. Opening pitch is slated for Saturday (May 10) at noon. The tiebreaker, if needed, is scheduled for Sunday (May 11) at 1 p.m.
Facing the Big Green in game one of last Sunday's affair, southpaw senior Kenon Ronz allowed just seven hits and three earned runs, while striking out nine Dartmouth batters with zero walks. At the plate, freshman Josh Klimkiewicz had an RBI and a run in the 5-3 victory.
Down a run in game two, Harvard exploded for six runs in the bottom of the first to take a quick 6-1 lead. First-year Lance Salsgiver sparked the rally, punishing Patrick Pfeiffer's first pitch with a solo home run beyond the left-field fence. Senior Brian Lentz tacked on a run in the bottom of the second to extend the Harvard edge to 7-4.
After three straight runs in the fourth inning, Dartmouth tied the game at 7-7. Harvard responded with a four-run effort on four-for-four hitting to quiet the Big Green. The Crimson added a fifth-inning tally and a pair of runs in the seventh on its way to the 14-10 victory. Senior hurler Barry Wahlberg improved to 2-2 with the win, giving up six hits and three earned runs in just over five innings.