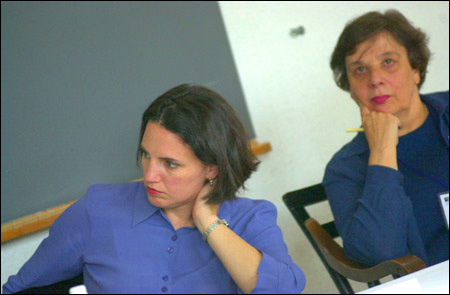 Emotions ran high in Andover Hall at Harvard Divinity School as activists on both sides of the Palestinian-Israeli conflict gathered together for an attempt at "Dialogue in the Midst of Conflict." The civil but often tense panel discussion – part of the Women, Religion and Social Change II conference sponsored by the Pluralism Project at Harvard University – was moderated by Alma Abdul-Hadi Jadallah, herself a Palestinian American, a certified mediator, and a doctoral candidate at George Mason University's Institute for Conflict Resolution. Jadallah invited panelists and audience members to consider other points of view, find common ground, and seek mutual understanding. She sought to ease anxieties and cool tempers by pronouncing the event "a safe place."
Laila Al-Marayati, an American Muslim and spokesperson for the Muslim Women's League in Los Angeles, painted a bleak picture of the current state of dialogue between Palestinians and Israelis. Al-Marayati said that a civil discourse on the conflict in the Middle East – even when attempted in the United States – was often "not possible in a respectful way at this time." She cited discussions in which she had participated where the panelists were heckled and antagonisms flared into violence.
While struggling to keep their own anger in check, panelists tried to identify the core issues hindering dialogue between Jews and Arabs. Al-Marayati said that attempts to expand the discourse on the conflict were often perceived by Jews as symptoms of "an underlying and undisclosed desire to annihilate the state of Israel," and were inevitably suppressed.
Blu Greenberg, president of the Jewish Orthodox Feminist Alliance, responded by describing experiences with educated Palestinian colleagues who would neither acknowledge the right of the state of Israel to exist, nor that the wars of the 1940s, '60s and '70s were the result of Arab attacks. Jean Zaru a member of the Ramallah Friends Meeting and a Palestinian currently living under Israeli military rule, said that dialogue cannot proceed productively when the less powerful partner is most often asked to "accommodate and be silent in service of the so-called peace."
The panelists for the most part refrained from what Al-Marayati called "the battle … to seize and retain the moral high ground." Still, the rhetoric could be provocative. Al-Marayati said that her organization and others like it had repeatedly condemned suicide bombings, but their repudiations had gotten little coverage in the media. She said that Israel had used excessive force in the West Bank and wondered why Jews had not been similarly pressured to renounce Israeli military actions against Palestinian civilians.
"There's always a qualifier," she said during her presentation. "Instead of saying, 'Children should not be killed,' (the Israelis) say 'Children should not intentionally be killed. …' This (action) should be condemned."
"I believe that we've exercised tremendous restraint in the face of extreme provocation," Greenberg responded in her address.
Jean Zaru demurred, claiming that "an Israeli military leader has referred to Palestinians as a cancer and suggested a second course of chemotherapy is needed to clean up this cancer."
Al-Marayati compared Palestinian violence to gang violence in Los Angeles, but said that the police in L.A. did not destroy the homes of the families of gang members (something Israel has done in the case of some suicide bombers). Greenberg countered that Israel did what it needed to do to defend itself and that it was essentially a just and ethical state.
Al-Marayati summed up the collective exasperation of the panelists, saying that the discourse was often so difficult and painful, she sometimes asked herself "why should we bother at all?"
"It makes people physically ill when they're finished having these conversations," she said. "It's something that creates anxiety, depression, and maybe fear depending on the environment they're talking in."
Still, there were moments of conciliation. Al-Marayati condemned suicide bombings. Zaru acknowledged the right of the state of Israel to exist and said that she prayed that future Palestinian resistance would be nonviolent. Perhaps most moving, though, was the story Blu Greenberg told about her son, who was recently killed in a bicycling accident. His liver was donated to an Arab man being treated in an Israeli hospital. The transplant saved his life. Greenberg spoke of the man's family with affection and said that she envisioned a day when such interactions would be common in Israel and the occupied territories.
All panelists said that they were willing to keep talking. Al-Marayati said that the goal of dialogue should be for people on all sides of the conflict to find "common ground and have a common perspective and then take that to people of influence, whether in media or politics, and say, 'Here's an alternative way of looking at the situation.'"
Greenberg said that she remained in dialogue to save lives.
"If we keep talking on a personal level, we won't be killing each other," she said.
Jean Zaru pledged that she would continue to talk in order to honor the memories of those on both sides of the conflict who had suffered.
"To memorialize the victims of war and violence, let us work for justice so that we may create peace. Real peace. And this is our chance."
"Dialogue in the Midst of Conflict" was a public panel of the five-day international, interreligious conference on Women, Religion & Social Change II. This conference was sponsored by the Pluralism Project at Harvard University: http://www.pluralism.org/events/wrsc2/