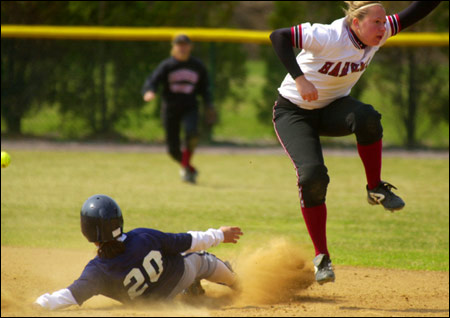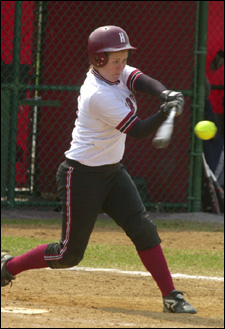 For a bunch of smart kids, the Harvard softball team's latest strategy is a no-brainer. Over the past week and a half, the Crimson have outscored their opponents 46 to 11 to capture six of their last seven games. The new formula (i.e., "score a lot of runs") has improved Harvard to 11-20 overall, while lifting the team to a .500 mark in the Ivy League (4-4), good for a fourth place tie with Yale.
The deluge began April 15 when the Crimson banged out a pair of victories against Marist College, overwhelming the Red Foxes, 11-1 and 11-0.
This past weekend, host Harvard swept a doubleheader against Yale on Friday (April 18), blanking the Bulldogs 6-0 in the opening contest, before squelching a late Yale rally in game two to take the 10-2 win. At the plate, first-year Rachel Murray had six RBIs against Yale, including a two-RBI single in game one. Over the past week Murray has hit 10-of-16 to lead the Crimson with a .439 overall batting average, earning the third-baser Ivy League Rookie of the Week honors.
And on Saturday (April 19), the Crimson split a pair with visiting Brown, topping the Bears 4-3 in eight innings before cooling off with a 5-1 loss. Down two runs in the first game, Harvard junior Rachel Goldberg cracked a two-run homer in the seventh inning to tie things up at 3-3. With bases loaded in the extra inning, freshman Pilar Adams scored Sara Williamson '04 for the come-from-behind 4-3 win. Brown hurler Marissa Berkes earned the win in game two, limiting Harvard to one run in seven innings. The loss snapped a six-game win streak for the Crimson.
With nine games remaining on its schedule, the Crimson face Rhode Island today (April 24) in Kingston, R.I., before resuming Ivy play this weekend when the Crimson visits Pennsylvania and Princeton.