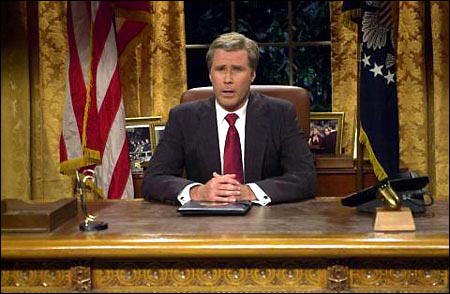 Comedian Will Ferrell, a seven-season veteran of "Saturday Night Live," is the 2003 Class Day speaker, announced the Harvard College Class of 2003 Senior Class Committee and the Harvard Alumni Association on Tuesday (April 15). Ferrell was selected after months of secret negotiations.
"Ferrell has been one of the top choices of the class, consistently named by students as a favorite potential speaker," says First Class Marshal Krishnan N. Subrahmanian '03. "Plain and simple, Will Ferrell is one of the funniest people in the world and we are thrilled to have him sharing his thoughts as we celebrate the amazing Class of 2003."
Ferrell will address the senior class and guests on Class Day, June 4, at 2 p.m. in Tercentenary Theatre. Traditionally taking place on the day before Commencement, Class Day is a student-focused, less formal celebration of the graduating class at Harvard College.
On "Saturday Night Live," Ferrell is known for his imitation of President George W. Bush and for the many characters he has enlivened with his wit: Spartan cheerleader Craig, middle-school teacher Marty Culp, and the amorous Professor Klarvin.
Currently on screen in the film "Old School," Ferrell's film credits also include "Jay and Silent Bob Strike Back," "Zoolander," "Superstar," "Austin Powers: International Man of Mystery" and its sequel, "The Spy Who Shagged Me."
– Beth Potier