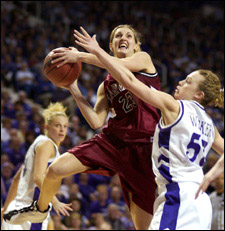 "To the stars through difficulties" – the state motto of Kansas – took on some real meaning for the Kansas State women's basketball team this past Friday (March 22) in the first round of the NCAA Tournament. Up by 19 points in the second half, the No. 3 Wildcats were forced to hold off a defiant Crimson team in the final four minutes, before taking a 79-69 win in front of nearly 11,000 anxious fans in Manhattan, Kan.
Sophomore center Reka Czerny – who led all scores with 25 points – sparked the Harvard run with eight-straight points before fouling out at 6:14. After a pair of back-to-back threes from team captain Kate Ides '03, the No. 14-seeded Crimson cut the Kansas State advantage to 69-61 with 3:29 to play. That was as close as Harvard got, however, as the Ivy League Champs saw its 16-game winning streak come to an end.
Forward Hana Peljto '04 tallied 15 points and eight boards, and was perfect from the charity stripe (6-6), while guard Beverly Moore '04 scored 14 points.
The game marked the Crimson's second-straight NCAA tourney appearance and the program's fifth overall. Harvard closes out its season with a 22-5 overall record (14-0 Ivy).