Calling them a "distinguished group of individuals who bring a broad range of talents and scholarly pursuits to the houses," Harry R. Lewis, dean of Harvard College, announced the appointment of new masters for three Harvard houses: Joseph L. Badaracco Jr. and his wife Patricia O'Brien in Currier, Jay M. Harris and Cheryl Harris in Cabot, and Stephen Peter Rosen '74 and his wife Mandana Sassanfar in Winthrop.
The appointments, made officially by President Lawrence H. Summers in consultation with Lewis, Dean of the Faculty of Arts and Sciences William Kirby, and Dean for Undergraduate Education Benedict Gross, are pending approval by the Governing Boards. The new masters are to begin officially in the fall.
"The pool of candidates was exceptionally strong this year and I am deeply grateful to the three in-house advisory committees who gave such thoughtful input into the selection process," Lewis said. "Few universities have the ability to bring such a wealth of talent into daily contact with students where they live. We are, indeed, very fortunate to have such extraordinary scholars within our faculty. We are even more fortunate that, in this group, we not only have outstanding Harvard faculty, but co-masters who have distinguished careers at other institutions. We are very pleased to have six remarkable people join an already strong group of Harvard College masters," Lewis said.
Currier House
Badaracco, John Shad Professor of Business Ethics at Harvard Business School, teaches courses on ethics, strategy, and management. In addition, he has taught in executive programs around the world. He has written broadly about business ethics and published several books on the topic, including "Leading Quietly: An Unorthodox Guide to Doing the Right Thing." His books "Business Ethics: Roles and Responsibilities" and "Defining Moments: When Managers Must Choose Between Right and Right" have been translated into nine languages.
O'Brien, who has been dean of the Simmons College School of Management since 1997, holds a D.B.A. from Harvard Business School. She has also been an associate professor at Babson College (1996-97) and Harvard Business School (1985-96). She is a member of the Massachusetts Women's Forum and the Fleet Bank Women's Entrepreneurs' Connection Advisory Board. Her publications include "Governance Systems in Steel: The American and Japanese Experience," "Industry Structure as a Competitive Advantage: The History of Japan's Post-War Steel Industry," and "Coordinating Market Forces: The Anatomy of Investment Decisions in the Japanese Steel Industry."
"Pat and I are very excited about this appointment," Badaracco said. "The Grahams have been great house masters, and they are a tough act to follow. We thank them for building such a strong foundation. We look forward to working with the house tutors, staff, and students to create an environment in which students will thrive academically and in all the other parts of their lives."
Cabot House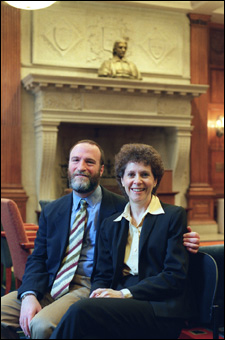 Jay Harris is the Harry Austryn Professor of Jewish Studies and Harvard College Professor. Co-master Cheryl Harris has had a career focused on counseling and teaching in schools and educational facilities. She has been a school psychologist at Sharon (Mass.) High School and The Ramaz Lower School in New York City. She has diagnosed and worked with children with learning disabilities, trained and advised teachers and staffs on harassment issues, and is the author (with Rochelle G. Kaplan) of "Looking Beyond Children's Affective Communications: Implications for Informal Mathematics Assessment."
Jay Harris came to Harvard as an assistant professor in Jewish Studies in 1989. He became the Harris K. Weston Associate Professor of the Humanities in 1991. He has taught at Columbia and Princeton universities, the University of Pennsylvania, and the Jewish Theological Seminary. At Harvard, he has taught "Introduction to Judaism," "Modern Jewish Religious Movements," "Studies in Jewish Historiography," "Theories of Jewish Nationalism," and several other courses. He is a member of the editorial boards of Jewish Quarterly Review and Jewish Book Annual, and has written books and articles on Jewish history, literature, and modern Judaism.
"We are delighted to have been selected for this position," Jay Harris said. "We look forward to working with all involved to maintain the wonderful traditions of Cabot House and the warm environment created by the Wares. We are committed to helping build a community of students that excels at learning, is devoted to public service, and that can take advantage of the many opportunities to pursue extracurricular passions, all in a safe and welcoming environment. Above all, we look forward to interacting with and learning from each of the residents of Cabot House."
Winthrop House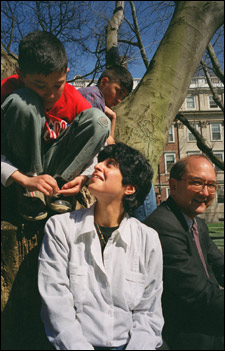 Rosen is the Kaneb Professor of National Security and Military Affairs, Harvard College Professor, and director of Harvard's John M. Olin Center for Strategic Studies. Rosen, who has been on staff at the Olin Center since 1990, is also a member of the Board of Visitors for the U.S. Joint Forces Command, and of the China Futures Panel for the Central Intelligence Agency. He has also been a professor in the Strategy Department of the Naval War College, a consultant to The President's Commission on Integrated Long Term Strategy, and director of Political-Military Affairs for the National Security Council.
"Paul Hanson and Cynthia Rosenberger, the current Winthrop masters, have already created a lively community. Mandana and I are looking forward to joining it. We will be co-masters in every sense of the word. While I'd like to think we both have a lot to contribute to the community, she is an extraordinary teacher and mentor of undergraduates," Rosen said.
Sassanfar, who teaches biology and is an outreach coordinator for the department of biology at the Massachusetts Institute of Technology, is also a nonresident tutor at Kirkland House and is on the board of tutors in biochemical sciences at Harvard's Department of Molecular and Cellular Biology. She is also acting director of the Massachusetts Junior Academy of Science. Sassanfar, who has a Ph.D. in chemistry from Cornell University, has had her work published in many peer-reviewed journals and holds five U.S. patents.
Lewis expressed gratitude to the current masters of the three houses: James H. and Janice Ware of Cabot, William and Barbara Graham of Currier, and Paul Hanson and Cynthia Rosenberger of Winthrop. "I am very thankful to each of the departing masters for their years of service and hard work. Each should be applauded for their leadership and support of Harvard undergraduates. I am sure the entire Harvard College community will join me in thanking and wishing them well."