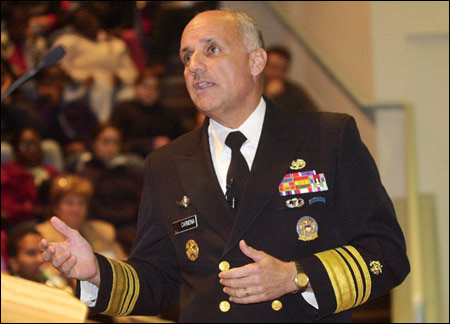 U.S. Surgeon General Richard Carmona, a high school dropout who grew up among New York's urban poor, used his own rags-to-riches story Monday (March 31) to illustrate that a troubled start to life need not limit one's ambitions.
"When you look at the horizon, see the opportunity, don't see the obstacles," Carmona told a Harvard Medical School Leadership Forum that included faculty, fellows, students, and children from several area schools.
Though his hour-long speech was heavy on personal details and light on policy considerations, Carmona still found time to highlight his emphasis on prevention as the main approach both to America's health care ills and to threats from bioterrorism.
Prevention, Carmona said, would help answer health problems that he says mostly stem from bad personal decisions such as drunk driving, gun violence, overeating, or failing to exercise.
"Most of the things I was seeing [while treating patients] were preventable. They were people who had made bad decisions that day or bad decisions all their lives," Carmona said. "We are supposed to take very expensive science and undo what you did to yourself."
Carmona was sworn in as surgeon general on Aug. 5, 2002. As U.S. surgeon general, Carmona is the nation's leading spokesman on public health issues and advises the assistant secretary for health, who is the principal adviser to the secretary of health, on public health and scientific issues. As surgeon general, Carmona holds the rank of vice admiral in the U.S. Public Health Service Commissioned Corps. Since Feb. 5, he has also held the position of acting assistant secretary for health.
Carmona's talk was sponsored by the Commonwealth Fund/Harvard University Fellowship in Minority Health Policy and the California Endowment Scholars in Health Policy at Harvard University. Leadership Forums, open to the public as well as the Harvard community, are overseen by the Medical School's Minority Faculty Development Program.
Much of Carmona's talk was aimed at the schoolchildren in the audience. He detailed what he termed his "nontraditional path" to success, starting with his childhood as a poor Latino in Harlem.
He said he knew both hunger and homelessness. He was truant in middle school and stopped going altogether at age 17. After that, he said, he held a string of dead-end low-paying jobs.
The turning point, he said, was when a young man from the neighborhood came home on leave from the U.S. Army's Special Forces. The man's stories about the places he'd visited and things he'd done inspired Carmona, he said. But when the young man told Carmona his best bet was to go back to school, Carmona balked. He had too much work to make up and would have to start in classes with students several years younger than him.
So the man gave Carmona a card with a recruiters' number on it. Carmona called, joined, and wound up as a Special Forces medic and weapons specialist in Vietnam. At just 19, Carmona recalled, he delivered his first two babies – twins – in a remote Vietnamese hamlet. Actually the woman delivered the babies, Carmona added, all he did was take the credit.
Carmona said the military was a critical turning point for him, instilling discipline, stability, a sense of loyalty, and other traits that provided a foundation for his future achievements.
When he returned, he turned down an electrician's job offered by an uncle and, despite his family's skepticism, went to college with the aim of becoming a doctor. During the course of his career, he's held numerous positions, including his most recent posts as chairman of the State of Arizona Southern Regional Emergency Medical System and professor of surgery, public health, and family and community medicine at the University of Arizona.
Though he's worked hard, Carmona said he's never been politically connected. So it was a surprise when the White House called to see if he was interested in becoming the next surgeon general.
He said the job provides an amazing opportunity for him to make a difference and to help head off rising trends of obesity, diabetes, and other health risks in the United States. When he looks back at it all, though, he said the lesson is not one of health, but of opportunity.
"The fact that somebody like me could serve in this position is absolutely incredible," Carmona told the audience. "There's no reason you can't do the same thing."