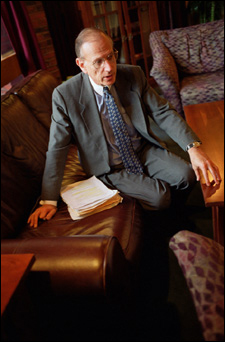 Stuart Eizenstat calls it the greatest robbery in world history – the Nazis' theft of money, valuables, artworks, and property from Jews, Catholics, and others during World War II.
For nearly 50 years the thieves and their accomplices avoided giving back what they had taken. Museums and galleries turned a blind eye to suspicious gaps in the ownership records of the items they acquired, and Swiss banks told the heirs of concentration camp victims whose bodies had been shoveled into mass graves that they could not release family funds without proper death certificates.
Eizenstat spoke at the ARCO Forum April 15 about his role in righting this monumental wrong. Eizenstat led the administration's efforts on Holocaust-related issues while serving as U.S. ambassador to the European Union, undersecretary of commerce, undersecretary of state, and deputy secretary of the treasury during the Clinton administration.
He has told the story of his six-year struggle on behalf of Nazi victims in a recent book, "Imperfect Justice: Looted Assets, Slave Labor, and the Unfinished Business of World War II" (PublicAffairs, 2003).
"This was the civil side of the Nuremberg trials," he said, "the first time private companies were made civilly accountable for actions during wartime."
Eizenstat's investigations proved that the Swiss National Bank, once thought to be the safest and most secure institution of its kind in the world, helped to launder $5 billion in gold bullion stolen from banks in Nazi-occupied countries or recast from melted jewelry and dental fillings.
Eizenstat brokered deals with Swiss authorities to return more than 20,000 dormant bank accounts to depositors or their rightful heirs, securing an agreement to pay 10 times the face amount to account for accumulated interest. The same calculation was agreed upon for unpaid insurance policies.
Eizenstat also succeeded in returning several thousand pieces of religious property to the Jewish and Catholic communities from which they had been taken. Of the 600,000 artworks believed to have been stolen by the Nazis, Eizenstat succeeded in returning some, while many more are under investigation or have been posted on Web sites.
One of the most difficult issues was compensating victims of slave labor camps. Eizenstat and his colleagues created a new legal concept for dealing with mass injury cases which they call "rough justice." Since the survivors of the Nazi labor camps are now mostly in their 80s, it seemed unreasonable to ask them to go through a lengthy process of documenting their experiences. A decision was therefore made to pay all claimants a standard compensation of $7,500 regardless of the length of time they had spent as slave laborers.
"They knew they weren't getting a king's ransom, but it was important to them that they also received apologies from the presidents of Germany and Austria and that someone was held responsible for their suffering."
Eizenstat is well aware that his work on behalf of those plundered and victimized by the Nazis has implications for other groups, including American descendants of slaves. His commission made a decision that only the former slave laborers themselves and not their heirs would be able to recover damages, and he believes this precedent should be applied in the case of American slavery.
But while Eizenstat does not believe in reparations for the descendants of slaves, he does believe that the legacy of American slavery should be addressed, specifically by maintaining or expanding affirmative action programs, establishing a slavery education task force, and issuing a presidential apology for slavery.
Eizenstat said that going to school in Atlanta, he never learned much about the history of slavery in America.
Nor did he learn much about the Holocaust, despite growing up in a Jewish family. The issue of the Holocaust did not really come alive for him until he read about the Roosevelt administration's failure to save Jewish refugees or to stop the slaughter of Jews in Europe.
Negotiating reparations for victims of the Nazis gave Eizenstat the chance to compensate for his youthful deficiencies, although he was careful never to let his emotions gain the upper hand.
"I had to isolate my own background and feelings, to take the emotion out of it and focus on getting the job done. But the tension is always present."