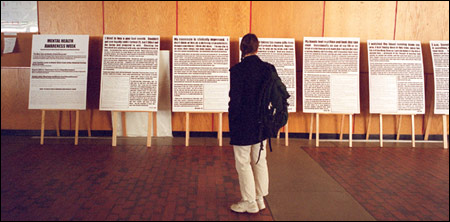 Cait Stork's voice wavered as she addressed the audience in a Harvard Hall classroom, speaking clearly but cautiously about her battle with bipolar disorder and her high school suicide attempts.
"I don't want to walk around campus and be 'that girl who tried to kill herself,'" said Stork '04, who told her story to an audience of her Harvard College peers for the first time Monday night (April 21).
Sarah Ramer '03 feels Stork's pain; she's talking about her own journey through mental illness on a panel tonight. Other students – more private but no less passionate – relate their struggles anonymously on posters displayed in the Science Center this week.
"Maybe it is strange that I have to wash my hands after I touch my ID, tie my shoe, turn on my light, close my window shade, push open my shower curtain, pull down my bedspread, write a check, or read a library book," one of the posters reads, detailing the author's obsessive-compulsive disorder.
Stork, Ramer, and the poster authors are all undergraduates in the Mental Health Awareness and Advocacy Group (MHAAG). This week, as MHAAG presented its second annual Mental Health Awareness and Advocacy Week, members have stared down their fears to make their personal experiences with mental illness public because they believe doing so is the most powerful way to educate the Harvard community about mental health issues.
"Meeting somebody who has mental illness is the best way to reduce stigma," said Stork, adding that the stigma of mental illness is a major barrier to people seeking help or treatment. "There is a risk that we take, but I think that the benefits that come from personal contact outweigh that."
"People recognize how much courage it takes to get up there in front of people you don't really know but could see again in any number of settings and tell them this really personal stuff about you," said Ramer.
Personal stories, professional advice
The Mental Health Awareness and Advocacy Week is going beyond the emotional impact of personal stories to take a wide-angle view of mental illness at Harvard and beyond. Stork, who is chairing the week's events with help from Ramer and Andrea Roe '03, wanted to reach audiences in a variety of ways. Organizers credit financial support from around the University – the Office of the Provost, University Health Services (UHS), and organizations at the Business and Medical Schools all pitched in – for helping them program a dynamic week of events.
Panel discussions like Monday's "The Many Sides of Suicide," in which Stork spoke alongside mental health experts, blended emotional testimonies with clinical expertise and practical advice.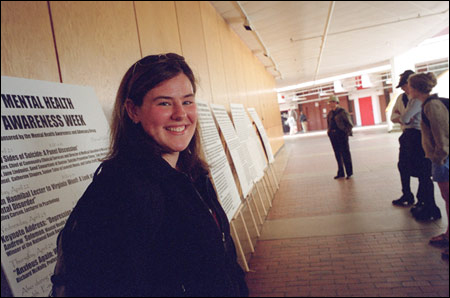 "It's really hard to say that suicide is irrational. To a person who is suicidal, what they're thinking about doing is completely rational," said Stork. "All of the good things in life become less important than the pain you're going through."
Responding to a recent UHS survey that reported that nearly half of Harvard College students felt depressed in the last academic year and almost 10 percent had considered suicide, several of the mental health professionals said they thought those figures might be low.
"Suicide for college students is the second leading cause of death. That's a very scary statistic," said Jane Lindquist of Good Samaritans of Boston, a suicide prevention center.
But it's students' age and developmental stage, not the high-pressure environment of Harvard or any college, that boosts those statistics, said panel moderator Paul Barreira, associate professor of psychiatry at McLean Hospital.
Sally Weylman, a psychologist at Harvard's Bureau of Study Counsel, proposed that the number of students recognizing their depression has increased as the illness' stigma has decreased.
Providing intellectual fodder
Tonight (April 24), Ramer joins Professor of Psychology Richard McNally ("he's an anxiety disorders rock star," she said) in a panel called "Anxious Again: When Fears and Worries Aren't Normal Anymore" (see box). She hopes the discussion sheds personal and professional light on a series of mental illnesses that she thinks are less well known than depression.
Other events, such as psychology lecturer Shelley Carson's look at Hollywood films' portrayal of mental illness on Tuesday (April 22), touched a more academic nerve.
"In an intellectual environment like Harvard … it's important to give people intellectual fodder about mental illness," said Ramer.
Keynote speaker Andrew Solomon, whose acclaimed book "The Noonday Demon: An Atlas of Depression" won the National Book Award, promised to probe the emotional, intellectual, and cultural depths of depression in his talk last night (April 23).
"We think of depression too often as a modern Western middle-class illness – it has existed across history and it exists across cultures," Solomon said in an interview. For his book, he researched depression in Inuit cultures, in survivors of the Khmer Rouge in Cambodia, and in West African tribes.
Solomon planned to focus his talk, appropriately, on depression on college campuses. While statistics point to a rise in depression among college students, he dismisses the notion that university depression is its own category of mental illness.
"It's rather like all other depression, it's just that some of the triggers are there in university," he said. "It seems to me that the kind of depression that afflicts college students really arises in part from the daunting recognition of choice."
In addition, he hypothesized, decreased stigma around depression and improved drugs for treating it may boost statistics of depression on college campuses.
Solomon, who wrote "The Noonday Demon" after his own severe depression, titled his lecture "Depression, Too, Is a Thing With Feathers," a reference to a line from an Emily Dickinson poem: "Hope is a thing with feathers that perches on the soul." Depression and hope, he said, are not mutually exclusive.
"Depression is not so different from other mental states in certain ways. If you can achieve hope in other contexts you should be able to achieve hope within the sphere of depression," he said. "What I really want to accomplish in the lecture is to give people not the mechanisms for curing their depression, which I think they get elsewhere, but the mechanisms for living with and accommodating the depression that they have. That is what I think really gives people hope."
'Anxious Again: When Fears and Worries Aren't Normal Anymore' — the final event of Mental Health Awareness and Advocacy Week — will be held this evening (April 24) at 8 p.m. in Emerson Hall, Room 105. For more information, visit www.hcs.harvard.edu/~mhaag/.