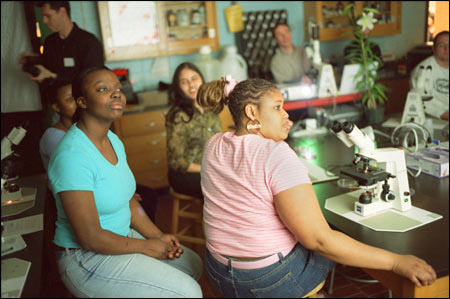 The room held all the elements of a typical high school biology lab – students perched around lab tables in front of microscopes, teachers circulating, a presentation about what to look for, and chatter as the exercise proceeded. But after the students chopped up lily anthers, stained the slides, and observed, it was clear that they were seeing something special.
"I have little dots … they are … like … splitting," one teenage boy exclaimed through a tangle of curls as he peered intently into his new white microscope at the rapidly dividing mytocyte. "Woah, this is pretty neat," said another.
The students were the first at Cambridge Rindge and Latin High School (CRLS) to use their new research-grade microscopes, part of a microscopy suite donation that marks the beginning of a four-year partnership between Harvard's Department of Molecular and Cellular Biology (MCB) and the science teachers at Cambridge Rindge and Latin. The microscopy lab at CRLS was created with funding from the Faculty of Arts and Sciences. The project, guided by Robert Lue, director of undergraduate studies in the biological sciences, is part of a broader effort to bridge the gap between cutting-edge science and undergraduate and high school science curricula.
"When high school curriculum switched its focus to math and basic literacy, the biological sciences were somewhat de-emphasized," said Lue. "We are working to fight the tide, to make sure high school students have a 21st century understanding of science. It is important that research departments give back to this process."
In a field that has ushered in such recent breakthroughs as the human genome project and new fields of inquiry like proteomics, there has been a widespread concern that the teaching of biology needs to keep pace.
"The gift from Harvard is not only good for our students, but for the entire community," said Sybil Knight, CRLS principal. "Our mission is to train the scientists of tomorrow. The best way to do that is with strong, effective teachers: We already have that, and the latest technology gives us the opportunity to do more. There is no question that this equipment and the supporting services will help make us even better teachers and our students better scientists."
Microscopy donation links Harvard and Cambridge school
In deciding on materials for the lab, Lue consulted with the high school teachers about what would work best. The new suite includes 31 new research-grade microscopes (19 compound microscopes, three trinocular, and nine dissecting microscopes), a laptop computer, digital cameras, projection equipment, a library of digital and video learning materials, and a four-year commitment of technical support and all materials for labs, including slides, solutions and specimens. The CRLS lab puts tools needed to advance high school science curricula into the hands of teachers year round.
As a part of the project, two MCB outreach coordinators, who are also former high school teachers, will work with CRLS teachers as they develop new lab exercises and advance science curricula during the next four years. According to Tara Bennett, one outreach coordinator, the optical quality of the microscopes, which is unusual for a high school lab, is a big benefit for both teachers and students. "The quality of the optics on these scopes allows you to get to the point of the lab much faster," said Bennett, who will be working with the high school to develop new labs.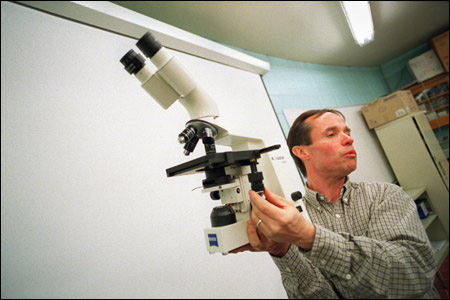 Partnering to advance science teaching
The suite allows students to see science in real time through the microscopes, to capture the images they are studying, print out data, and share their findings through projection. Classroom learning can also be reinforced with animated video clips and video that is a part of the growing multimedia library.
"We want to work with the Cambridge Rindge and Latin teachers as partners to see tangible enhancements and ultimately develop teaching materials that will flow from the suite to form a paradigm for high school science curriculum," said Lue.
The timing of the new lab couldn't be better, according to Tobe Stromberg, a science teacher at CRLS. "Cambridge is in the middle of revising its curriculum so this is a great time to be developing new labs and incorporating them into the new curriculum, which focuses on student directed learning," said Stromberg, whose students were the first to use the lab last week.
"My students have never done a lab like this before," said Stromberg of the lily anther study, which allows students to see cells going through the various stages of mitosis. "I could tell they were interested because they were so fixated."
From far and wide, they come
Last year, Lue secured a $1.6 million grant from the Howard Hughes Medical Institute (HHMI) to help bridge a widening gap between cutting-edge research and teaching labs. As the grant program director, he extended his existing undergraduate and high school outreach programs this year by earmarking a portion of the HHMI funds for a series of new workshops to expose high school science teachers and their students to complex but fundamental exercises made possible by high-end research lab technology.
Over the last three weeks, more than 360 high school students and their science teachers have traveled from as far off as Martha's Vineyard and New Hampshire to experience science in a research university laboratory.
The three-hour workshops have offered students and teachers access to advanced equipment – and the context and training for using it – that high schools can not offer for lack of equipment and time. High school students benefit from exposure to fundamental lab skills, but also get a bigger picture of the real-world applications of science.
Last week, a high school class from Providence, R.I., took part in the popular PCR (Polymerase Chain Reactions) and gel electrophoresis lab. Students took samples from their cheeks, isolated the DNA with a centrifuge, observed it, and then ran tests to analyze and compare their genetic data. For Elitza Christoff, a freshman at Classical High School who wants to become a genetic engineer, the exercise was a hands-on experience in her chosen field. "Before we couldn't have done this. We came to Harvard to investigate our genetic makeup."
Other students in other workshops have dissected fresh calf hearts and taken their own electrocardiograms, peered through research microscopes to observe the various stages of mitosis and meiosis in onions and lily anthers, used spectrophotometers to study the absorption spectrum of chloroplasts, and measured amounts of oxygen produced during photosynthesis.
The labs also offer training for Harvard's postdocs and graduate students, affording them the opportunity to teach. The fledgling instructors learn how to troubleshoot difficult-to-understand procedures, adjust curriculum in real time to respond to specific student needs, and hone teaching styles. "This experience is good because when you are 'in the trenches,' you really dissect the procedures," said Bennett, who oversees the lab work.