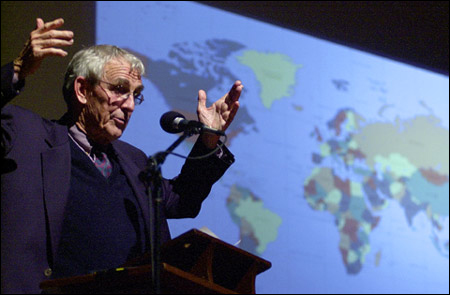 Author and naturalist Peter Matthiessen described a life seeking the mystery within nature Sunday (April 13). He told of traveling to the Icelandic coast where the last great auk died, chasing great white sharks in the southern ocean, and traversing today's environmental battleground in Alaska's oil fields.
Along the way, Matthiessen has written dozens of books and raised an influential voice in praise of nature and in defense of the environment. Matthiessen spoke at Sanders Theatre, delivering the sixth annual Roger Tory Peterson Memorial Lecture. Matthiessen also received the Roger Tory Peterson Medal, awarded by Faculty of Arts and Sciences Dean William Kirby, in memory of the famed naturalist.
Kirby said Matthiessen's work raised interest in nature and the environment all over the world, paralleling the mission of the Harvard Museum of Natural History, which reaches out to the public and presents the story of Harvard's collections and the research behind them.
Matthiessen was introduced by Edward O. Wilson, Pellegrino University Professor Emeritus and recipient of the first Roger Tory Peterson Medal, which was established by the Harvard Museum of Natural History in 1997. Wilson described Matthiessen as a craftsman and a professional in both his efforts as a writer and as a naturalist.
Matthiessen's work encompasses his nonfiction nature writing such as "The Snow Leopard," "The Cloud Forest: A Chronicle of the South American Wilderness," and "Baikal: Sacred Sea of Siberia." He has also written several novels, including "At Play in the Fields of the Lord" and "Far Tortuga."
Matthiessen said he began his career intending to write fiction and, in fact, his first books, "Race Rock" in 1954 and "Partisans" in 1955, were novels. Nature, however, has always been a love of his. He recalled fondly a small stream near his childhood home where he watched a microcosm of the forces of nature at work.
From a childhood spent fishing and observing nature, Matthiessen developed a love of birds in adolescence that, along with his broader love of the natural world, carried over into adulthood. He began nature writing as a way to make more money, he said. His first nature book, "Wildlife in America," stemmed from a magazine assignment about vanishing and extinct U.S. wildlife.
Since then, Matthiessen has traveled around the world, gathering experiences and information for his books. He recently traveled to Alaska's Arctic National Wildlife Refuge, and, at his Sunday talk, spoke out against proposals to drill for oil there. Matthiessen said the six months' supply of oil that would be gained isn't worth the destruction of one of the United States' last unspoiled areas. The refuge, he said is an important breeding ground for caribou and is home for a wide range of wildlife, including musk oxen, polar bears, and many others.
The area should be preserved for our children and grandchildren, Matthiessen said, closing his talk with an Inuit saying:
"If we fail to save the land, God may forgive us, but our children won't."