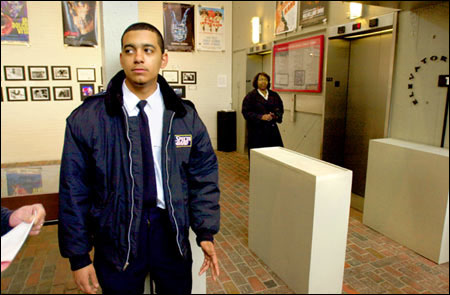 Visitors to and employees in Harvard's Holyoke Center can't help but notice that the way they access their offices has changed over the past few weeks. The issuing of neck ribbons for Harvard University IDs (HUIDs), the firm but friendly requests by security personnel to see those IDs, and even those mysterious gray boxes are all part of a "soft start" to security upgrades.
Starting Tuesday (April 15), building security changes launch in earnest, more tightly controlling access to the Holyoke Center's upper floors to enhance the safety and security of building occupants.
"Our goal is to keep the building and its occupants safe while not making the Holyoke Center an inhospitable or difficult place to enter and do business in," says Sharon Lembo, building manager. "It's a fine line to walk." These latest upgrades are the result of a security review by consultants Kroll Inc., she adds; they were informed by focus groups with Holyoke Center employees.
For employees who work in the Holyoke Center, many of the changes won't come as a surprise. For several weeks, employees have been attaching their HUIDs to neck ribbons or belt clips and since April 1 they have been asked to show them for access to the Holyoke elevators.
Starting April 15, all Holyoke Center employees will be required to wear their IDs, and other University employees must show their HUIDs to gain access to the elevators.
Visitors to the Holyoke Center offices will be issued temporary visitor badges upon arrival after presenting a valid picture ID. Employees who expect visitors for appointments will e-mail details of the appointment to security in advance. Unexpected, or casual visitors, will show a picture ID at the security desk and have any large bags or backpacks searched before being issued a temporary ID.
Delivery drivers and couriers will also be required to either have official delivery badges or other approval.
Visitors and employees who enter the building through the Holyoke Center Garage will see changes over the next several months as well, as building management analyzes different access scenarios. The first trial run begins April 15, when all entry to the building through the garage will be via the four-bank elevator.
These changes are one step in a multimonth security upgrade process, says Lembo. The gray plywood boxes at the elevator lobbies will help prepare Holyoke Center management for the next step: ID-reading turnstiles and card readers in the stairwells. The mock turnstiles, Lembo says, help her team gauge traffic flow to elevators. Real turnstiles, akin to the pass readers at MBTA stations, will be installed in about six months.
Holyoke Center employees who still need a neck ribbon or a clip for their IDs can contact the security desk at (617) 496-4400. For more information about any of the new security procedures, contact Sharon Lembo at sharon_lembo@harvard.edu.