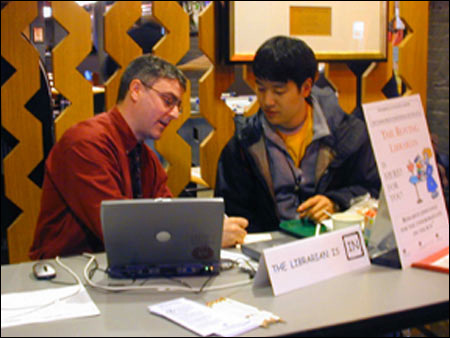 "Hey, very cool," commented more than one undergraduate entering Loker Commons recently and seeing Jeff Kosokoff, head of reference services at Lamont Library, sitting just inside the door. Kosokoff may claim these greetings were provoked by his winsome smile, but it may have had more to do with the sign on the table in front of him, announcing "Roving Librarian, Research Assistance for the Undergraduate Student on the Run."
The Roving Librarian is a pilot project that brings library services into the areas of students' everyday life. Using a wireless laptop, reference librarians take HOLLIS, the Harvard Libraries portal, research guides, and "finding aids" – some of the primary undergraduate research tools – out of the library and into non-academic spaces where students spend time. The reference librarian is available to answer questions, assist in research, help locate material, and encourage the students to keep the library and librarians at the forefront of their research.
"The commitment of the three undergraduate libraries – Lamont, Hilles, and Cabot – to better serve the undergraduate population, as well as the support of HCL [Harvard College Libraries] for the purchase of high-quality portable hardware, and the widening availability of wireless connectivity across the College, facilitated the advent of the Roving Librarian. We are now ready to pilot outreach actions that follow students into their residential and other nonacademic haunts. The next step for the library is to create partnerships with the dorms and houses to create Roving Librarian hours in these spaces," said Heather Cole, librarian of Hilles and Lamont Libraries.
A librarian will be located in Loker Commons Monday through Thursday from noon to 2 p.m. until May 8. Reference Librarians Kosokoff, Sue Gilroy, Lamont; Chao Chen, Hilles; and Elaine Clement, Ann Robinson, and Dana Mastroianni, Cabot, will take turns filling the 20 different two-hour slots.
"We've had a great response from the students and a warm reception from the building administrators at the Loker Commons," said Kosokoff. "We decided to initiate the Roving Librarian in Loker Commons because it is a high-traffic area for undergraduate students, many of whom stop to pick up sack lunches rather than travel back to their houses over the lunch hour. And as you can see by the smiles and nods, we are getting their attention."