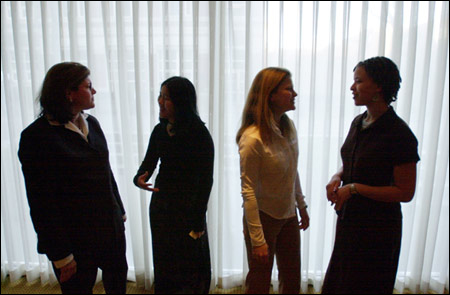 As the first female governor of Massachusetts and the first governor in the United States to give birth while in office, Jane Swift received more than her share of media attention – both positive and negative – for her very public attempt to balance work and family.
But for all the turmoil the media scrutiny caused in her personal life, Swift is not sorry she made the decision to serve.
"My husband can tell you that the reality in our house was sometimes even uglier than the press made it out to be, but I never once regretted the decision to accept a leadership position and to have children. I believe I was a better governor because I had children, and I hope that someday my daughters will tell me that I was a better mother because I was governor."
Swift spoke April 14 at the sixth annual Harvard College Women's Leadership Awards Ceremony, sponsored by the Women's Leadership Project. The former governor was the recipient of the professional achievement award. The student award went to Shelby Braxton-Brooks '03. Rachelle Gould '03 and Michelle Kuo '03 were runners-up.
Swift said she was disappointed that the lesson the media drew from her struggles in office was that motherhood and political leadership were incompatible. Against this inference, she quoted Boston Globe columnist Ellen Goodman, who said that "if success and progress for women means not having children, then that is no progress at all."
Swift said that it will be difficult for a woman to be elected president of the United States if we do not make it possible for women to combine work and family. She said that voters often question the leadership ability of female executives because they believe that women will prioritize family over professional duties.
"That should be a reason to vote for a woman. Voters should respond positively to a woman who puts her children first."
Braxton-Brooks, a dancer, singer, actor, director, producer, choreographer, and a special concentrator in performance studies at Harvard, spoke about her passion for the performing arts and her commitment to art that profoundly affects people's lives.
"The power of art is the power to make a permanent impression with an ephemeral display."
She also spoke about the need to make decisions for oneself and not be deterred by discouraging warnings, no matter how well intended.
"The most difficult thing is saying yes when you're faced with a wall of no's. You shouldn't ever let anyone else's no's be your dream deferred."