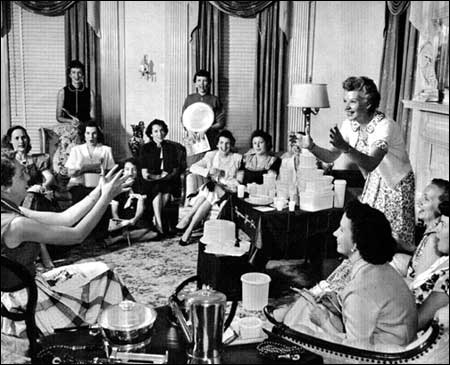 In her last extended visit to Harvard, filmmaker Laurie Kahn-Leavitt chronicled the research of Phillips Professor of Early American History Laurel Thatcher Ulrich by creating a documentary film that brought to life Ulrich's Pulitzer Prize-winning book "A Midwife's Tale."
This year, Kahn-Leavitt is back at Harvard as a fellow at the Charles Warren Center for Studies in American History. On March 19 she hosted the first-ever public showing of her latest work: an hourlong documentary about a bowl that burps.
"How do you get from an 18th century midwife to Tupperware?" Kahn-Leavitt rhetorically asked the largely female audience at Radcliffe's Schlesinger Library. "I'm obviously interested in women's lives and this is a great story of extraordinary ordinary people: women."
Indeed, "Tupperware!", Kahn-Leavitt's charming new film, paints a very female-centered picture of the plastics empire. While its creator was a quirky Massachusetts inventor named Earl Silas Tupper, the revolutionary product owed its success to the women who sold, bought, and used it. At the center of this mid-century phenomenon was marketing whiz Brownie Wise, a maverick businesswoman who built Tupperware into an empire and set legions of postwar housewives on the path to becoming entrepreneurs and "ladies."
Buoyant with archival footage of Tupperware parties and conventions and set to 1950s music, "Tupperware!" features interviews with former "Tupperware ladies" and company executives. The film charts Tupperware's early years, in the 1950s, when its boom was fed by the socioeconomics of the era.
"The era and the business were made for each other," the film says. As America's postwar economy exploded, women – many of whom worked during World War II – had few economic choices. They were discouraged from joining the man's world of work and, as suburbs proliferated, many of them were without cars for much of the day.
While Tupper's patented containers, which "burped" to seal food's freshness for longer, tapped into the nation's growing love affair with modern home conveniences, it was Wise's home-party selling that made the profitable connection with American women.
The film documents how home sales by independent dealers, nearly all of whom were women, built upon existing social networks and let homemakers experience, via demonstration and personal testimonies, the unique qualities of Earl Tupper's product.
"Your demonstration is so much better when it's given with authority," says one former Tupperware dealer, adding that she sometimes exaggerated just how long that head of lettuce would stay fresh beneath Tupperware's famous seal.
As a glamorous, business-savvy woman wending her way in a man's world, Brownie Wise was an inspiration to her Tupperware dealers, most of whom had no college education. She feminized the stereotype of the door-to-door salesman, instructing all her dealers to wear hose and heels to their parties. "Tupperware moved us up to being a lady," says one former dealer in the film.
Wise helped women overcome their husbands' resistance by telling them, "you bring in the bread, but she can bring in a little cake." She motivated her sales force with elaborate "jubilees," equal parts education, cheerleading, and flat-out Hollywood glamour, at the company's lush corporate headquarters in Florida. Archival film of the jubilees show women dressed in costume for theme parties, competing for prizes, and swooning as Wise bestows personal congratulations or even her own clothing upon them.
The Tupperware story is not, however, a triumphant tale of women's rights. Even as Wise gained publicity as the company's public face, landing as the first woman ever on the cover of Business Week magazine, Earl Tupper retained control of the company, which was dominated by male executives. Relations between Tupper and Wise, once cozy, disintegrated as they tussled for control of the product and its sales. In 1958, Tupper fired Wise and sold the company several months later.
As the Schlesinger audience enjoyed 1950s-themed snacks of macaroni and cheese and chocolate pudding, Kahn-Leavitt described the intense sense of family and loyalty among the Tupperware dealers she interviewed for the film. Indeed, her entrée into the company's tight-lipped upper echelons was through former "D.K.'s" – Tupperware distributors' kids – who now held management positions in the corporation.
Kahn-Leavitt, whose next documentary effort will be a 10-part series on women, reiterated the "extraordinary ordinary women" connection between Martha Ballard, the midwife of her earlier film, and the women who seized economic opportunities by selling plastic bowls. For all the advancements that Tupperware offered its "ladies," however, Kahn-Leavitt said, "I don't think you'd get any of these women to say they were feminists."
The Museum of Fine Arts will screen 'Tupperware!' as part of its film series Thursday (April 24) at 8 p.m. and Saturday (April 26) at 1 p.m. For tickets and information, call (617) 369-3306.