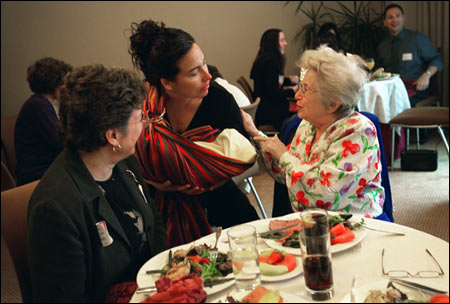 Masturbation. Female orgasm. Viagra. Bestiality.
In her 25 years as a sex therapist and educator, Dr. Ruth Westheimer has seen – or heard about – it all. She shared her wisdom, along with plenty of wit, with Harvard students Friday afternoon (April 11) at the annual Amy Smith Berylson lecture of the Ann Radcliffe Trust.
Thanks to widespread sexual education resulting in higher "sexual literacy," she said, our sexual attitudes and practices are changing for the better. Unintended pregnancies are down, female orgasms are up, and our deep-seated myths about sex are eroding. Still, said the diminutive German dynamo, we've got a long way to go.
For the most part, she said, our attitudes about sex have broken free of the bonds of our Victorian forebears, whose mothers advised their daughters to "lie back and think of England" on their wedding nights.
In other words, said Westheimer, "Don't expect the stars to twinkle, don't expect the earth to move, don't expect orgasms."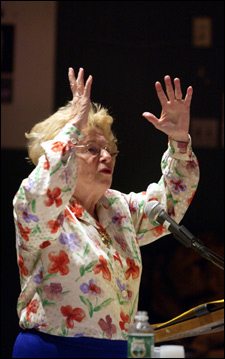 While no one would confuse her with a Victorian-era prude, Westheimer repeatedly asserted that she's more traditional than her frank sex talk might lead some to believe.
"I'm rather old-fashioned and a square. I believe in values, I believe in love. I certainly believe in relationships," she said. "But I believe strongly that we have to have an effort in terms of education at an early age." Westheimer encouraged what she called "askable parents" to whom children could bring their inevitable questions about sex.
Currently a visiting professor in Jewish Studies at Princeton University, Westheimer immigrated to the United States from Israel in 1956 after surviving Nazi occupation of her native Germany. She earned a doctor of education degree from Columbia University and studied at Cornell University with pioneering sex therapist Helen Singer Kaplan. Since she launched her radio show in 1980, she has taken her message of sexual education into all media: television, books, home video, and CD-ROM.
Burying sexual myths
In her talk, called "Sexually Speaking: Recent Trends in Knowledge, Attitude and Practice," Westheimer lobbied for continued progress in abandoning some of our culture's long-held sexual beliefs.
"It behooves us in this age of sexual literacy to bury the myth of masturbation," she said. She drew on the biblical roots of the taboo, adding that, even in 2003, masturbation remains the most difficult topic to discuss.
Extensive scientific research on sexual functioning has fortified us to stare down some misconceptions, she said, including one of the most tenacious.
"Size of the penis, for those of you who are worried, has nothing to do with the satisfaction of a woman. Except," she added with a wink, "if it's a minuscule one."
Such research has also helped treat sexual dysfunction and, with education, increased women's experience of orgasm.
"There are more women who have learned the message that a woman has to give herself permission to be sexually satisfied," said Westheimer. "Women have to teach men what they need."
She cautioned her audience not to embrace new myths. Books trumpeting the sexually miraculous G-spot or 30-minute orgasms risk making women feel that they're not "normal" if these wonders are not within their grasp.
And Viagra, she said, while a fantastic pharmaceutical breakthrough for men who need it, bypasses relationship issues while providing a physical remedy.
"He gets that Viagra pill and comes home with an erection from the floor to the ceiling," she said, but all is for naught if he hasn't shown his wife affection or helped her with household duties.
"All of the women in the audience know what she is going to tell him to do with that erection," said Westheimer to laughter.
'A friend of mine wants to know …'
At an intimate lunch with Harvard College students before the lecture, Westheimer solicited anonymous questions with a foolproof appeal: "Everyone who wants to have good sex for the rest of their lives has to give me questions."
And as her lecture drew to a close, she encouraged students to ask questions using microphones in the audience. "Who is the most courageous Harvard person who is going to ask a question about 'a friend of yours'?" she teased.
If the more personal queries – about performance and sexual identity – came anonymously, students used the live forum to stump the doctor with intellectual inquiries. What are her thoughts on bestiality? On the practice of female circumcision among some African tribes? On the radical feminist idea that vaginal intercourse is inherently invasive?
"I just wish that everybody who wants to have sex can find somebody to have sex with," said the no-nonsense Westheimer.
Thea Morton '06, who perplexed Westheimer when she asked her to give a definitive ruling on what constituted "hooking up," said after the lecture that she's a long-time fan of Dr. Ruth's. "I thought it was a fresh voice for a sexually frustrated campus," she said, refusing to elaborate on Harvard's collective frustration.
Steve Libin, Noam Osband, and Michal Spechler, all '03, admitted that Westheimer's talk didn't break new ground but that her perspective as a grandmotherly figure was refreshing.
And funny. "I think that if she ever decides to go out of this business she should go into stand-up comedy," said Spechler.