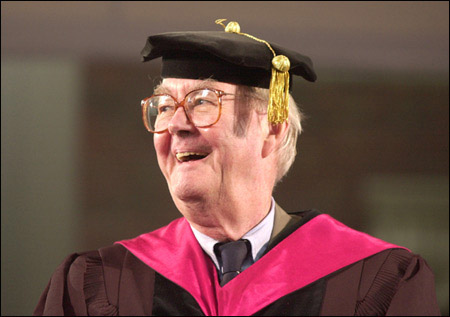 Daniel Patrick Moynihan, a former Harvard professor of government and a lifelong public servant, died March 26 at age 76. News reports said he developed an infection after undergoing an appendectomy on March 11. Moynihan died in Washington, the city in which he served four terms as a U.S. senator.
Moynihan first came to Harvard in 1966 as director of the Joint Center for Urban Studies at Harvard and the Massachusetts Institute of Technology (M.I.T.) and professor of education and urban politics at the Graduate School of Education. He later also served as professor of government in the Faculty of Arts and Sciences and the Faculty of the Kennedy School of Government.
"Pat Moynihan's career represented an extraordinary combination of intellectual distinction and devotion to public service," said Harvard University President Lawrence H. Summers. "He was at the center of national and international debates on some of the most important and difficult issues of our time, and made profound contributions both to the life of the mind and the life of the nation. In 18 books, in 24 years as a senator, and as a one-time member of the Harvard faculty, he focused his mind on an incredible array of complex questions – from poverty and family structure to secrecy in government, from international law to architectural preservation, from tax policy to the fate of the Soviet Union. He will be missed."
Moynihan's career in government service spanned more than four decades. He worked on Averell Harriman's campaign for New York governor in 1954 and served on his staff until 1958. He began working in the federal government in 1961 as an assistant to the secretary of labor in the Kennedy administration, eventually rising to assistant secretary of labor for policy planning. He served in the Johnson, Nixon, and Ford administrations in Cabinet-level or sub-Cabinet-level positions.
Moynihan also served as ambassador to India from 1973 to 1975, and as U.S. representative to the United Nations from 1975 to 1976, taking leaves from his Harvard professorial duties to do so.
Moynihan was first elected to the U.S. Senate from his native New York in 1976. He won re-election in 1982, 1988, and 1994. Throughout his career, Moynihan was a powerful and sometimes controversial voice for social change. Moynihan retired from the Senate in January 2001 after four terms and was succeeded by former first lady Hillary Rodham Clinton.
Moynihan most recently spoke on the Harvard campus on Commencement Day 2002, receiving an honorary doctor of laws degree from the University. The citation read "A quintessential scholar-statesman whose capacious learning and independence of mind have shaped our national conversation; to complex questions of consequence his answers are never pat."
Moynihan also spoke at the 1976 Commencement ceremony. He was awarded an honorary master's degree by Harvard in 1966, an honor accorded to newly tenured Harvard faculty who do not already hold a Harvard degree.
Read Moynihan's 2002 Harvard Commencement address at http://www.commencement.harvard.edu/moynihan.html.