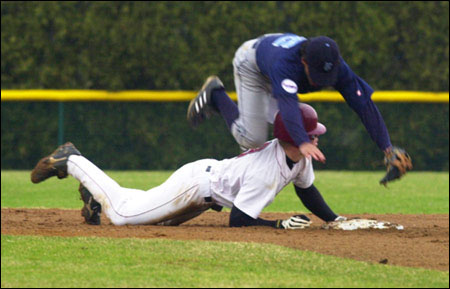 Coming off a bumpy 5-9 road trip and a rained out home opener against Rhode Island (a 3-0 five-inning loss), the Harvard baseball team opened the Ivy League portion of its season this past weekend with some promising spring in its step. The visiting Crimson split a pair of doubleheaders against Pennsylvania and Columbia to improve to 7-12 (2-2 Ivy) – good enough for a first place tie with Brown in the league's Red Rolfe Division.
In the first game against the Quakers on April 5, Harvard hit heavy and often to punish Penn, 11-6. Down 3-1 after one, the Crimson scored nine runs over a span of five innings to take a commanding 10-3 lead at the bottom of the sixth. During five innings on the mound, sophomore Mike Morgalis limited the Quakers to six hits to preserve the win.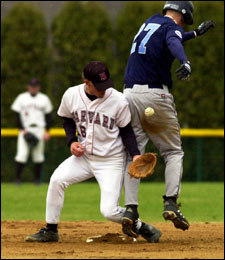 A three-run double in the eighth proved too much for the Crimson in Saturday's second game, as the Quakers went on to earn the split with a 6-4 win.
On Sunday (April 6) in New York, Harvard hurler Kenon Ronz '03 threw six strikeouts and allowed Columbia six hits over seven innings to take game one, 8-4. Down 3-1 after one, the Crimson managed three runs in the second inning to take a 4-3 edge. The Lions tied it up in the bottom of the second before sophomore catcher Schuyler Mann's home run kicked off a four-run rally in the third, setting up the final 8-4 tally.
In game two, team batting leader Trey Hendricks '04 (.405 and four homers on the season) provided Harvard's only offensive firepower with a fifth-inning homer to right field. Down 1-0, Columbia opened the ninth inning with three runs to take the second game, 3-1. Senior pitcher Matt Self – a last minute replacement for Matt Brunnig '06 – surrendered five hits in seven innings of work for the Crimson.
Harvard's scheduled game against visiting Holy Cross on Wednesday (April 9) was postponed. The game will be rescheduled for a later date. This weekend, the Crimson will host a pair of Ivy League doubleheaders when the league-leading Princeton Tigers (14-9, 6-2 Ivy) pay Cambridge a visit on Saturday (April 12), and Cornell's Big Red (8-9, 2-2 Ivy) come to town on Sunday (April 13). Opening pitch is slated for noon.