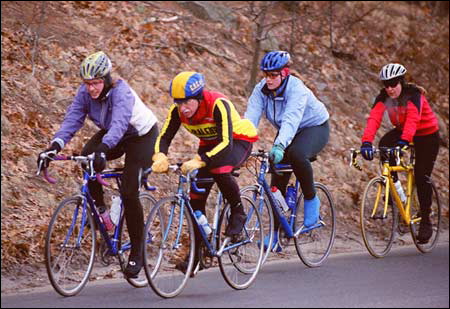 Nearly a century ago, bicycle racing was the most popular spectator sport in the nation. Velodromes were as common as shopping malls, early 20th century writers penned rabid reviews of bike races, and in 1903, "across the pond," a handful of anxious race promoters waited to see if their race – named simply the "Tour de France" – would be a success.
Fast-forward a century and one American has wrested four Tour de France victories from the French on their home turf (much to their dismay). Lance Armstrong has no doubt inspired several million people to jump on their bikes and ride, but a few enterprising Harvard cyclists and a world-class coach are proving equally inspiring to women, who, in ever-increasing numbers, are getting behind the handlebars.
When the Harvard University Cycling Association (HUCA) women's team steps to the start line this year, many of them will be racing for the first time. The motivation charging these rookies stems in part from veteran riders willing to invest time in new talent. But it's likely that it also comes from a legendary coach who has pedaled through four decades of cycling in the United States.
The Harvard University Cycling Association is hosting its first annual road race on Sunday (March 30) at the Tufts Veterinary School in scenic Grafton as part of the team's homecoming and Beanpot Race Weekend. Harvard will compete against teams from Tufts, Northeastern, Boston University, and the Massachusetts Institute of Technology along the 13.1-mile racecourse beginning at 9 a.m.
For information about the upcoming Beanpot and homecoming weekend, visit the team's Web site at http://www.harvardcycling.com.
John Allis is used to being the odd man out. Whether he's riding with a group of women or successfully disproving a theory that Americans can't win bike races because they are biologically different, Allis is at home as an anomaly. A former Olympian, Allis illustrates cycling tactics with personal references to historic races – to ride with Allis is to peer into history.
Allis' commitment to the team can be measured by more than the two decades he's been at the helm – the number of women-on-wheels is two and three times that of other collegiate teams, and they credit Allis for this numerical superiority.
"In terms of getting women involved, our advantage on this front is John Allis. He does an amazing job with getting new women riders to stick with it, take themselves seriously, and improve. That's hard to replicate," says collegiate "A" racer, graduate student Tamara Metz.
This sentiment is shared among the other members of the team yet, like a game of courteous pong, Allis credits the team with crafting an organized web of communication that encourages cyclists to get out and ride no matter what.
"I think a large part of the success of the team is in organizing people, getting them out to train, and recruiting them during orientation. The women's team is generally more cohesive and women are generally more supportive of each other than the men are. That, in part, gets more people out and gets more people to stick with it a little longer," said Allis.
Buried somewhere in this exchange of gracious finger-pointing is the chemistry for a victorious racing season, a formula – the team has discovered – that yields results.
This winter, snowy days and frigid temperatures may have foiled plans to train outside, but the team's collective pursuit of podium places motivated them to design results-driven indoor workouts. With this year's Ivy League trophy and the Eastern Collegiate Cycling Conference points' victory to defend, Harvard will rely on riders skilled in organizing and executing split-second race strategies.
Forging a white-hot pace in team time trials this year, "A" team co-captain, senior Julia Oh, aims to capture valuable points by excelling in her specialty: sprinting. Oh will take advantage of the collegiate race season to ready herself for the United States Cycling Federation (USCF) season. Last year, Oh added several top-five finishes to her USCF career – and to any pro team scouts out there, prepare your contracts because following graduation, Oh will become a full-time threat to rivals in the "Category 2" women's field.
HUCA "pooh-bah" senior Ilana Brito, does more to elevate team spirit than just praising each rider for showing up to ride on a 20-degree day. After pedaling up the celebrated climbs of last year's Tour de France, Brito is perfectly suited to lead the team up hills. She discovered her climbing prowess last year when she broke away from the field and never looked back as she rode to her best finish of the season.
The team's only mountain biker, Ph.D. candidate Amy E. Kerdok, uses her expert bike-handling skills to frustrate the competition with some stealthy maneuvers. The view from atop a mountain bike race podium is familiar to Kerdok and, as part of a four-person time-trial team, she's equally comfortable as a top road racer.
Law student Kim Rothman acts as liaison between racers and USA Cycling – the organization that issues required race licenses – and she manages travel and accommodations for away races. Apparently when no one was looking last year, not only did Rothman ride away victorious in both the ECCC Division I and Overall standings for the Women's "B Category"; she swam, rode, and ran away with some eyebrow-raising results for her age group in triathlons.
The team is balanced by the talents of Tamar Mentzel (GSAS), Nicole Raspa '03, Tamara Metz (GSAS), Abby Bowers (HDS), Amy Sheehan (GSD), Margaret Gardel (GSAS), Jean Jinsun Ryoo '04, and Emily Wang '04.
The payoff for months of hard work should arrive on March 29 and 30 in the form of some top finishes in front of a hometown crowd at the fourth annual Beanpot Race Weekend. The weekend starts off Saturday morning (March 29) with a team time trial starting and ending in Concord. The Tufts campus will host the action Saturday afternoon with the return of the Tufts Crit. Sunday's (March 30) road race, hosted by Harvard, will give endurance riders a chance to stretch their legs as they complete multiple laps on the 13.1 mile loop in Grafton.
With an expressed desire to get more women involved in cycling, the HUCA women possess the self-determination necessary to grow the sport of cycling. To help guide their efforts, the team thrives under the leadership of John Allis, whose actions speak as loud as his words: "I wouldn't be involved in the business or the sport if I didn't like it personally, also, if I didn't believe in it as something beneficial."
Wendy Booher writes for The Ride Magazine, based in Arlington.