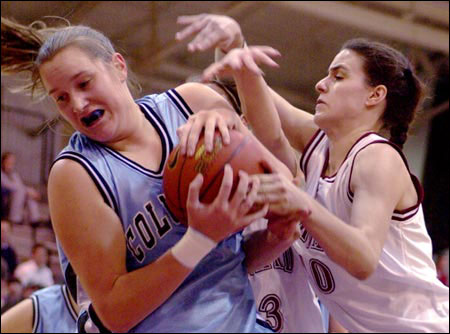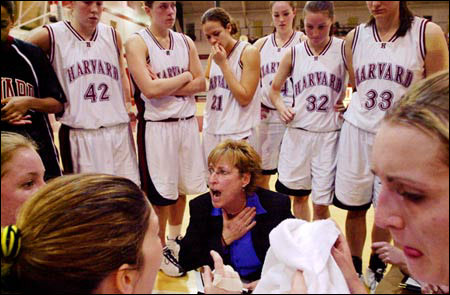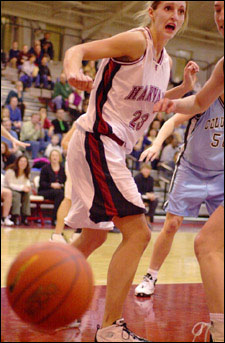 After chasing the Columbia Lions for 40 minutes this past Saturday night (March 1) at Lavietes Pavilion, an exhausted – and victorious – Harvard women's basketball team calmly took to center court, and proceeded to party like animals. Considering the past 24 hours, who could blame them?
Just a day before Harvard averted the potentially distressing defeat against the scrappy Columbia club (10-15, 3-9 Ivy), pulling off a 78-74 coup in the game's waning moments, the Crimson had officially clinched its second-straight Ivy League title (eighth overall) when second-place Brown fell to Penn, 82-58.
Saturday's win – a Harvard record at 14 straight – marked the women's biggest comeback of the season. What's more, in downing Columbia, the Crimson – still perfect in the Ivies at 12-0 – became the first team in the nation to receive a bid to the 2003 NCAA Tournament. Not a bad night for a bunch of Ivy champs. Indeed, in the ensuing celebration, snipped nets and all, it was a wonder that coach Kathy Delaney-Smith and company didn't take out the entire backboard.
Columbia dominated much of Saturday's game, thanks largely to a near unstoppable Sue Altman, who despite drawing double teams for much of the evening paced the Lions with 22 points. Down 17-4 in the middle of the first half, Harvard eventually hit its stride with 13-0 run to tie things up. Following sophomore Reka Cserny's three-point basket (17 points on the night), the Crimson claimed its first lead of the evening, taking a 24-22 edge with seven minutes remaining in the half. After a pair of threes by the Lions, Harvard saw its advantage vanish as Columbia closed out the first half with a 35-30 roar.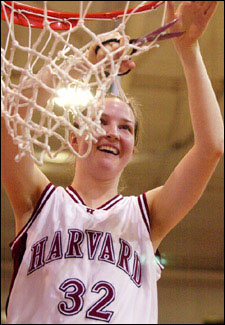 Poor shooting from the field continued to haunt the Crimson throughout much of the second half. Though after Columbia built a 53-40 advantage with 10:43 remaining, Harvard chipped away at the Lions' margin by knocking down 21 of 22 free-throw attempts. At the five-minute mark, league scoring leader Hana Peljto '04 (a game-high 20 points) hit a three to cut the lead to 64-61. Then, with just over two minutes remaining, a foul by Columbia's Patricia Kern sent Cserny to the line where she hit both freebies to remain perfect from the line on 12 for 12 shooting, cutting the lead to 68-67. With 1:34 left, Tricia Tubridy '04 and Beverly Moore '04 connected on back-to-back three-pointers to take the lead, 73-72. Three key defensive rebounds (and five very-clutch free throws) later, the Harvard party was on.
Winners of 24 straight Ivy contests, Harvard will look to extend its streak to 26 when the women travel to Yale and Brown this weekend to close out the regular season. The Crimson then must wait until March 16 for seeding announcements for the Big Dance.