In February, a group of Harvard staff and affiliates visited the Far East – that is, the Harvard Neighbors space at the far eastern edge of Harvard Yard – to learn the Japanese art of bookbinding. Yayoi Witzel-Yoshida, who started the Japanese Culture interest group of Harvard Neighbors 10 years ago, and Japanese Culture stalwart Marsha Knoll helped participants create a traditional "stab" binding blank book.
As the small group of women busily folded pages, selected brightly colored print papers for their covers, and stitched their books with needle and thread, Witzel-Yoshida and Knoll shared their knowledge of Japanese arts.
"This type of book was used to make a diary," said Witzel-Yoshida, adding that while, traditionally, one would make the book for oneself, it makes an attractive gift, as well.
"It's a very non-Japanese thing, to cut the paper," said Knoll as the bookbinders prepared their cover sheets. "You should tear it, because it honors the spirit of the paper."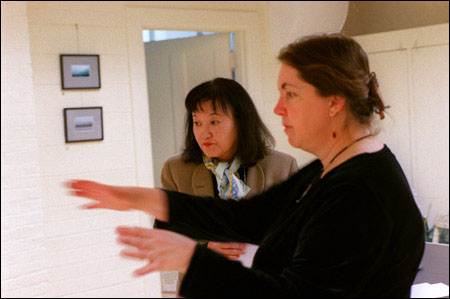 Below, instructor Knoll demonstrates how to bind the book's edges.
For Witzel-Yoshida, a native of Yokohama who has lived away from her native Japan for 30 years, it was leaving Japan that heightened her interest in the traditions of her homeland. The wife of Wales Professor of Sanskrit Michael Witzel, Yayoi Witzel-Yoshida saw that other Japanese natives who joined the Harvard community experienced a similar cultural awakening.
"Because the differences are so big, when they first come here, they notice Japanese culture for the first time," she says. She started the Japanese Culture group in part to nurture this interest.
Now, the group's loyal following includes Asians as well as non-Asians like Knoll. Which, says Witzel-Yoshida, makes for a tastier cultural stew.
"When East meets West, that is where interesting things happen," she says.