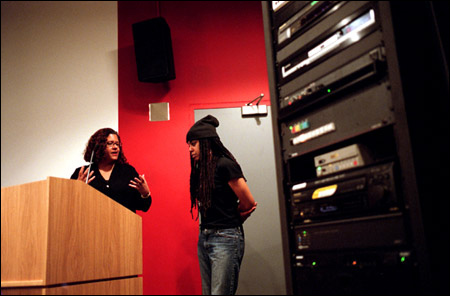 "Elegant facts await me. Small things in this world are mine," recited Elizabeth Alexander as she spoke her poem about the "Venus Hottentot." If language is a currency that grants acquisition, then Alexander and her fellow reader, Pulitzer Prize-winning dramatist Suzan-Lori Parks, have joint ownership of small things and large insights.
The two writers read last Wednesday (March 12) at the Carpenter Center as part of "Black Writers Reading," a seven-session series arranged and presented by the W.E.B. Du Bois Institute for Afro-American Research and moderated by Henry Louis Gates Jr., W.E.B. Du Bois Professor of the Humanities. Previous installments paired Jamaica Kincaid with Andrea Lee, Edwidge Danticat with Colson Whitehead, and Rita Dove with John Wideman. In a recent interview, Gates commented on how the series showcases the variety of modern and postmodern African-American voices in literature today.
"You don't read them to learn about the black experience in a sociological or anthropological way. You read them to learn about love, death, jealousy, and other universal themes," he said.
Marcellus Blount, this year's W.E.B. Du Bois fellow and a professor at Columbia University, introduced Elizabeth Alexander as a writer who "remakes language in ways that serve urgent ends." The gathering of more than 100 listeners welcomed the Renaissance woman who is, according to Blount, "an educator, essayist, dramatist, poet, and fierce."
But fierce was hardly the impression Alexander made as she established the amiable and witty repartee that characterized the evening. She joked to Gates that he essentially must "take responsibility or blame for setting me on this path to blackness." In the presence of what she dubbed "the vapor of the Du Bois" Institute, Alexander read several poems from her expansive canon. Among them was "Yolanda Speaks," inspired by stories she had heard about Du Bois' daughter, Yolanda, whose voice has been overshadowed in the annals of history by the enormity of her father's reputation. This micro-sized, macro-inspiring poem, like many of her others, embodied the matter-of-fact straightforwardness of her essays compressed into elegant verbal sequences that hint at both hard-boiled worldliness and unabashed wonder. That balance is typified in the poem "Notes From:" "How much light does a bomb flash make and what can it do?"
She continued to display her faculty for blending and bending words to achieve lyrical effects, treating guests to a preview of "Ars Poetica," a series in the works that, she explained, "is about the art of poetry and poetics, the way we go about doing things in our particular way."
Then came a woman who relishes in her own particular way. In introducing Suzan-Lori Parks, Robert Woodruff, artistic director of the American Repertory Theatre, spoke of her as a writer who offers something important to her colleagues in the theater. "What the playwright brings is the thing that feeds them on every level for a protracted period of time," he pronounced. That said, the audience was treated to a delicious taste of Parks' characteristic hearty, Nubian-nutrient-rich dish.
Sporting a snug black T-shirt and domed knit ski cap, ropes of dredlocks cascading far down her back, Parks launched into what is better described as a performance than a reading. She began with a scene from "The Death of the Last Black Man in the Entire World," her play from 1990, which she explained as "a musical where no one really sings." Differentiating characters by fluidly changing expressions, she read the scene, a clever exploration of the derivation of African-American vernacular, with wild gestures, hip-hop cadences, and percussive punctuations.
After being named Most Promising Playwright by The New York Times in 1989 when she was 26, Parks went on to fulfill that promise, churning out hard-hitting, non-naturalistic dramas that earned her two Obie Awards for best new play ("Imperceptible Mutabilities in the Third Kingdom" in 1990 and "Venus" in 1996), a Pulitzer ("Topdog/Underdog" in 2002), the prized "genius grant" from the MacArthur Foundation, not to mention grants and fellowships from the National Endowment for the Arts, the Kennedy Center Fund for New American Plays, and the Rockefeller Foundation.
The secret to her success? "I just do whatever," she said with a wave of her arm. "Some people thought I sold my soul to the Broadway devil [when "TopDog/UnderDog" was produced]. If there's a rule book, I say read it and burn it. Or burn it and read it." As further evidence of her flouting the rule book, she's stood firm to preserve the title of her new play, which opened last Sunday at the Joseph Papp Public Theater. (That title, by the way, is printed as "….A." But feel free to insert a certain word that starts with F.)
What struck many, including Gates, was that both women had written about Venus, a South African woman who was brought to Europe from Cape Town in the early 19th century and, because of her physical appearance, became a main attraction in freak shows. Gates pointed out that the once-exploited figure now has a home. "It took 150 years for two black American artists to write about the poignancy of her suffering," he said.
"I read about her and found that her voice was missing. I just gave her a voice. But my poem is solemn. You [Suzan-Lori] gave her a place to be a star," said Alexander.
Later, at an intimate reception at the Barker Center, guests mingled with the writers over wine and hors d'oeuvres.
"I can't believe how accessible it is," said Sarah Fader, who's studying linguistics at the Extension School. "Each time I came to see one writer I know and love I've been introduced to a new writer."