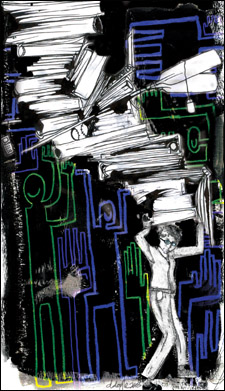 For the next several weeks, the entire Harvard community will be getting de-stressed, balanced, massaged, yoga'd, and, one hopes, a good night's sleep.
The third annual Caring for the Harvard Community, a series of events that began this week and runs through March 21, aims to unwind the University's collective psyche with a panoply of workshops and discussions in undergraduate houses and dorms, graduate schools, and administrative offices. The goal, says the cross-tub team that's organizing it, is not to solve every mental health issue on campus, but rather to introduce the Harvard community to the University's rich resources for getting help.
"Harvard is an extremely stimulating community, and sometimes the pace of everyday life can be quite stressful for those who study and work here," says Assistant Provost Marsha Semuels, who founded the event and oversees it for the Office of the Provost. "Caring for the Harvard Community offers a community-wide time for a deep breath and a chance to think about how we balance our lives and build positive relationships."
And since seeking help for mental health issues – which could range from thesis stress or not getting along with roommates to serious depression or eating disorders – continues to carry a stigma for many, Caring for the Harvard Community provides a forum to share experiences and learn about accessing help.
'Sex Signals,' an event that mixes improvisational comedy with education and audience participation to explore issues of dating and sex on college campuses, can be seen March 9, at 7 p.m., Science Center B.
The Office of the Provost is command central for Caring for the Harvard Community, tapping the expertise of Harvard's two major mental health resources, the Bureau of Study Counsel and University Health Services. Individual events are generated locally by those who will participate in them, so they're uniquely suited to the needs of each audience.
Undergraduate representatives of the Community Health Initiative coordinated the student events in all of the houses and in Loker Commons for freshmen. This year these events take a distinctly physical approach to mental health. Massage and acupressure, yoga, movement therapy with an expressive therapist from Lesley University, and "powersleeping" are among the tools undergraduates will acquire to help manage stress.
Three graduate student gatherings focus on some of the particular challenges those students face. "Because Harvard isn't in Hawaii" helps students cope with stress, while two other workshops deal with balancing graduate school with family obligations and being single at Harvard. Organized by the Graduate Student Council, the events are being promoted by posters designed by a Graduate School of Design student that are so striking they're disappearing from the walls where they've been posted.
Workshops for staff overwhelmingly address balancing work and life. While most are one-shot workshops with mental health professionals, the Kennedy School of Government (KSG) is taking a unique approach by celebrating the outside activities of its staff. "Showcasing the LIFE Part of Work," in the Taubman Rotunda March 10 from 4 to 6 p.m., will exhibit the creative talents – painting, photography, writing, poetry, and crafts – of KSG faculty and staff. A concurrent display will highlight the KSG community's other extracurricular interests, from stand-up comedy to triathlons, snowshoe racing, and other adventures.
On Sunday, March 9, Caring for the Harvard Community presents "Sex Signals," an interactive play open to anyone but with a particular relevance to undergraduates.
"Two actors, a male and a female, do a performance piece about gender roles, dating, communication, and the specific things that college students face in terms of dating and relationships," says Susan Marine, Harvard's coordinator of sexual assault prevention services, who brought the performance to Harvard. "It takes a really interesting and provocative look at how we become who we become, and how we can make better choices."
"Sex Signals" engages the audience, as the actors regularly request either verbal feedback or guidance, which audience members provide by flashing red or green cards.
"Sex Signals" complements the other mental health topics addressed by Caring for the Harvard Community by targeting an important issue – dating and sexual communication – that has a huge impact on students' lives and emotional wellbeing.